Welcome to MGID!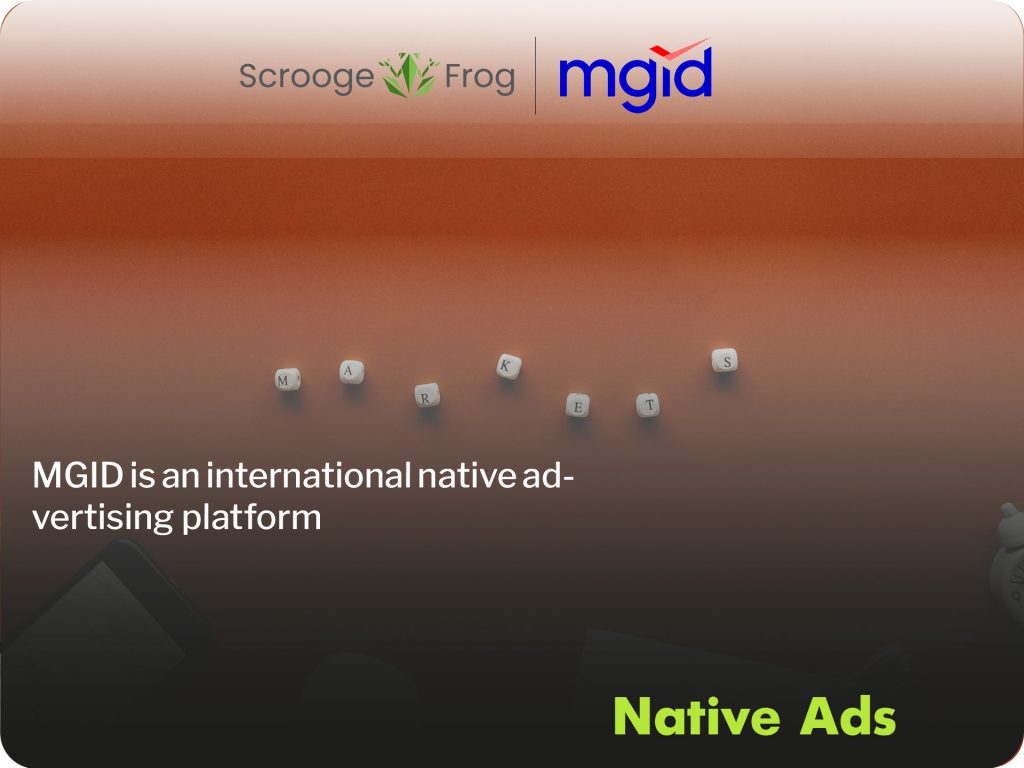 MGID is an international native advertising platform that acts as an intermediary between advertisers and publishers (owners of websites, media).
It ranks second among the world leaders in the market in terms of audience coverage. MGID offices are located in five countries. The company's headquarters is located in Santa Monica (Los Angeles County, California, USA). Every month, MGID provides 185 billion content recommendations to 850 million users. Platform support is available in 65 languages.

MGID positions itself everywhere as an American company: it is important for the American market to be American. But the company has Ukrainian roots – it was founded in 2008 in Kyiv. The office, technical center and almost 400 out of 530 employees work in Ukraine.

What are the main advantages of using this native MGID?
Never intrusive
Avoid banner blindness by serving relevant content, suitable to a user's interests.
Truly organic placements
Organically intertwine advertisements into a user's website interactions with native ad placements, free from irritation.
Stand out by blending in
Utilize a more subtle and indirect selling approach, rather than standing out as purely hard-sales advertising.
Higher click rates
By definition, native advertising has a 60% higher CTR.
MGID: Offers & Verticals & Support
Ad Types: Native Ads, Push Ads, Display, Video;
Cost Model: The most frequently used pricing model at MGID is CPC. However, the CPM pricing model is also available for brand awareness campaigns. Speak with your account manager for additional support about the required information and invoices;
Minimum Deposit: $100;
Payment Methods: MGID has plenty of choices when it comes to payment options. You'll see a few methods for adding funds displayed in the dashboard. These depend on the user's country. Besides that, you can also send payments via Paxum, WebMoney and Swift payment in different currencies: RUB, UAH, USD, EUR, INR, IDR, BRL, MXN, COP, ARS, CLP, THB;
Personal Onboarding Manager: Yes. (min. deposit $500);
MGID has traffic in over 200 countries and territories and coverage (monthly impressions) as follows:
Asia Pacific: 55 B+
CIS: 15B+
Eastern Europe & Middle East: 60 B+
Europe: 30 B+
India: 19B+
Latin America: 17B+
North America: 18B+
Ukraine: 5B+
Use the following tips to get the most out of your traffic:

Detail audience segments and optimize creatives. Use MGID's automation and optimization tools. These include rule-based optimization, custom bidding, and price recommendation tools;
You should also collect as much data as possible by setting up S2S tracking with MGID. This will add an intuitive separation of information to your campaign statistics;
Use a traffic analysis tool when creating a new campaign. This can reveal trends in the latest traffic flow by country with daily impressions, daily clicks, and minimum recommended CPC;
Consider time targeting, especially if your strategy relies heavily on call center and lead times. If you are not limited by these restrictions, then segment your display time and personalize your ads based on time.
Plan and structure your sales funnel so that it enhances the user experience and doesn't frustrate users;
Check out the articles in the MGID Academy to learn how to use creatives and landing pages to improve conversion rates without giving users artificially high expectations and unrealistic promises.
The minimum deposit for MGID is $100. However, it is recommended to start with a starting budget of at least $500-1500. This will give you enough space to test different aspects and funnels for your particular offer, as well as collect enough data to create blacklists and whitelists for your campaign.

In conclusion, MGID is an ad network that has been around for over 13 years. It's been in the advertising business for a long time and the company continues to lead the way by actively developing and adding new features to the platform. If you want to work with such an advertising grid as this one, please contact us for help, we have our own managers so that the work will be smooth and clear!