MAIL.RU Ads is a huge platform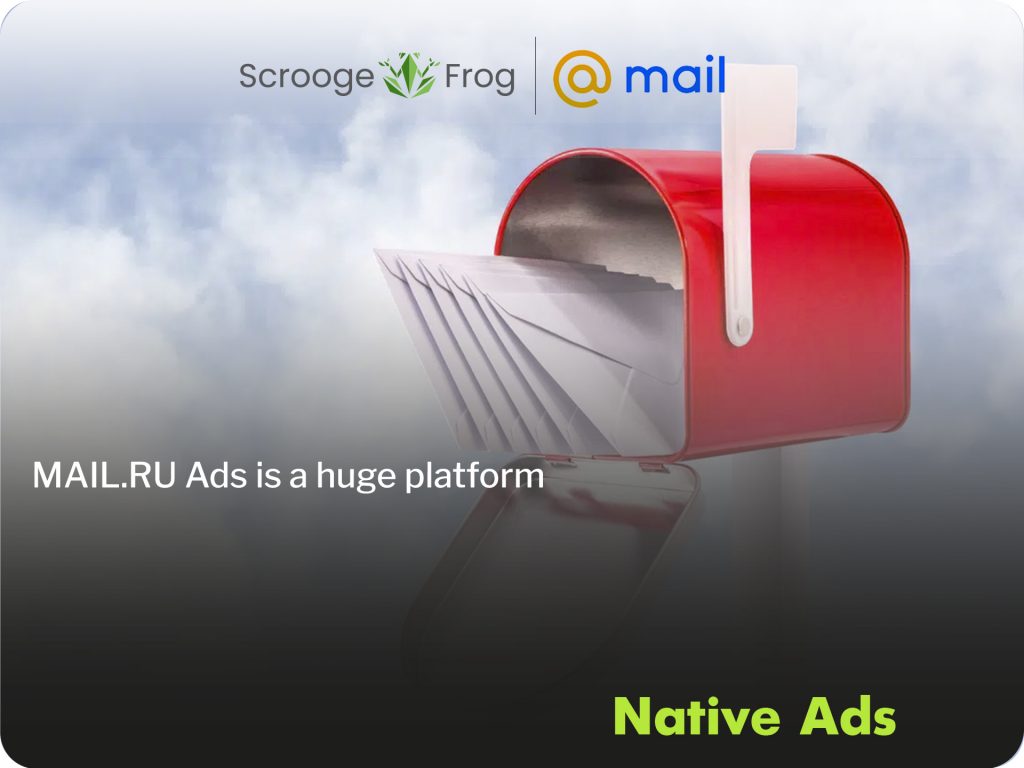 Mail.Ru Group develops internet communications and entertainment services in geo Russia and globally. The strategy is quite simple: create the best services for communication and entertainment.
According to TNS Gallup, as of March 2015, Mail.Ru was the most popular email service in Russia with 17.1 million web version visitors and 1,997,000 iOS and Android application users per day. According to the results of research over the years, the service was the most popular post in Belarus, Kazakhstan, Moldova, the second most popular Russian-speaking in Israel. In 2013, Mail.Ru ranked sixth among the most popular postal services in the world.

In March 2009, to transfer files from 30 megabytes to 20 gigabytes, Mail.ru was integrated with the Files@Mail.Ru storage. After Mail.ru bought the ICQ messenger, notifications about new letters were built into the ICQ On-Site widget, and an email client was added to ICQ Java with support for parallel work with multiple Mail.ru accounts. In turn, Mail.Ru Agent was built into the email interface. In June 2010, Mail.ru opened the mail service API for developers, making it possible to develop plugins for the service.
It is important to study and choose the right deployment before working with this platform, and here is a catalog of non-standard advertising in Mail.ru:
Large banner in the mail list
Carousel with custom animation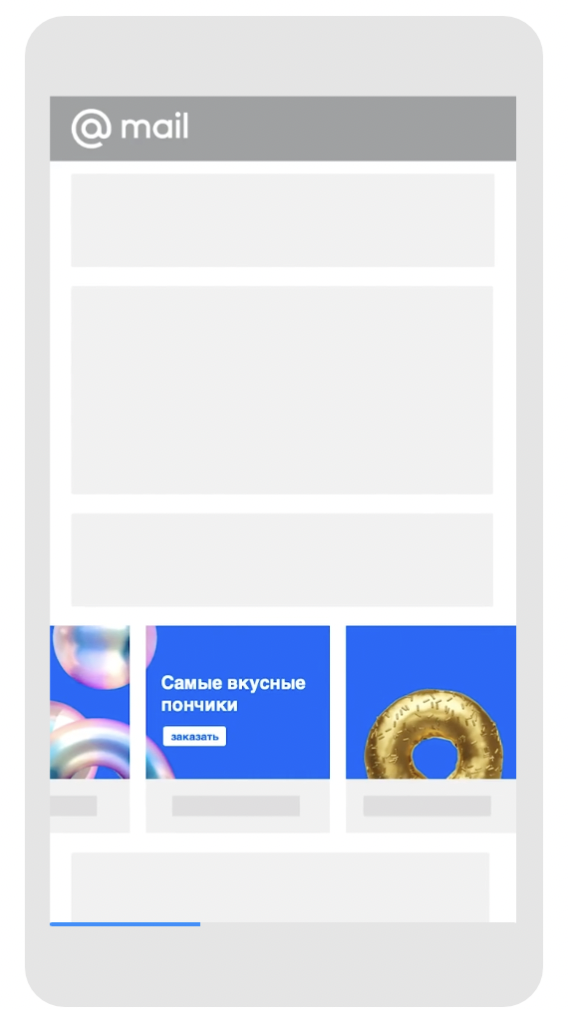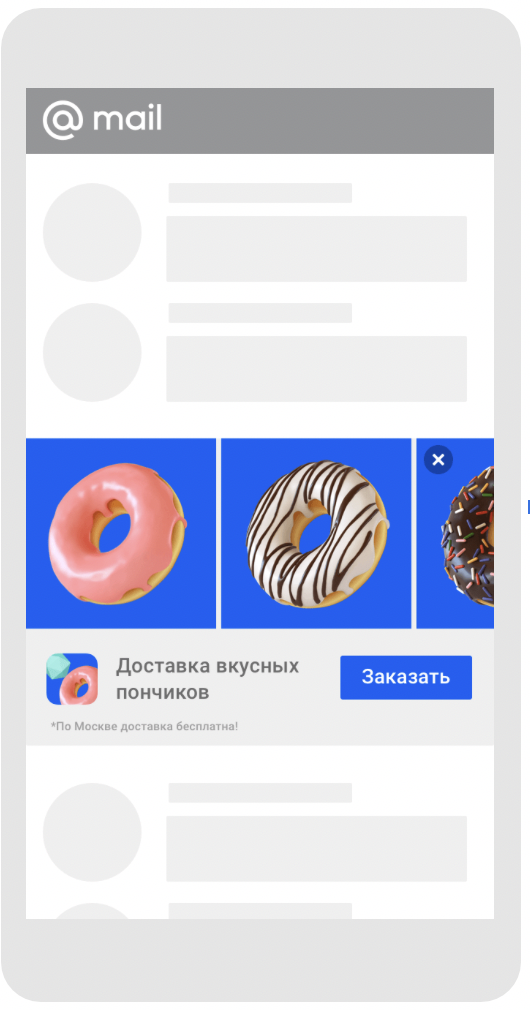 Static native format above the list of emails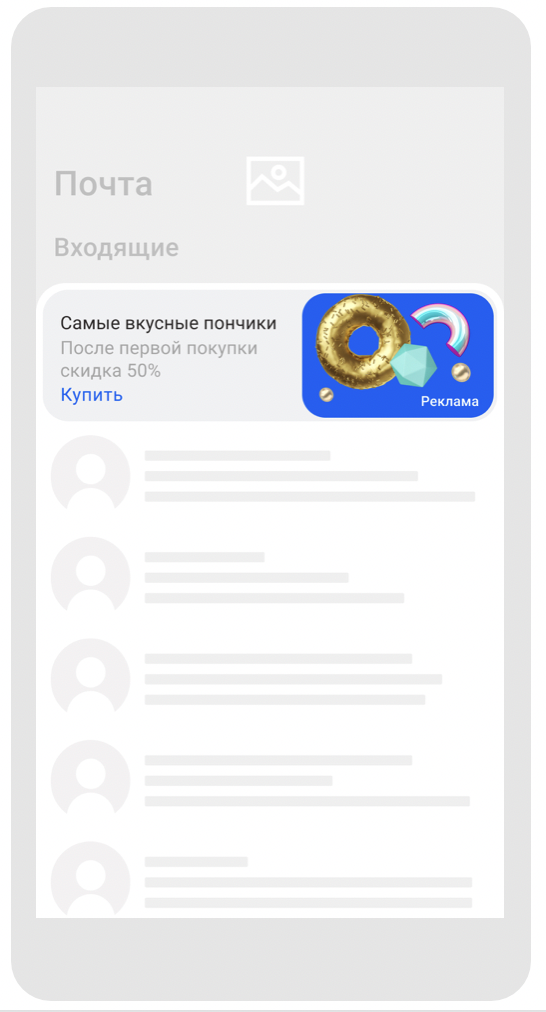 In order to understand the growth of this platform, we suggest that you familiarize yourself with the list of projects that have been implemented throughout the "life of Mail.Ru":
Auto Mail.ru is an automotive site, one of the first projects of the portal. Works since June 2005.
Kino Mail.ru. The site was launched under the name Afisha Mail.ru in August 2000. In April 2016, the Mail.ru Poster was renamed into Kino Mail.ru.
"Children Mail.ru" – a thematic site about the family. It was opened in May 2008 as a joint project of the portal and Johnson & Johnson.
Dobro Mail.ru. The project was launched in August 2013. It allows you to make a donation to Russian charitable organizations that help children, the elderly, people in difficult situations, homeless animals, as well as projects to protect the environment.
Health Mail.ru. Thematic site of medical subjects. It opened on October 5, 2009 on the unofficial "doctor's day", timed to coincide with the first Monday in October. The main materials of "Health Mail.ru" are thematic news and articles, reference books of diseases and medicines, a catalog of medical institutions, recommendations for first aid.
Lady Mail.ru is a women's site that opened in February 2005.
Mail.ru News is a news aggregator that has been in existence since 1998.
Pogoda is a service launched in January 2001. The site publishes weather forecasts for a week, 14 days, a month and a year (based on archived data for 11 years) for 13,245 settlements in Russia and neighboring countries.
Real Estate Mail.ru is a search service for advertisements for the sale and rental of residential real estate. It was opened in 2004 in partnership with the Delovoy Mir publishing house. In 2013, the company launched the Rent Mail.ru app to search for apartments in Moscow, St. Petersburg and other megalopolises.
Mail.ru Games is one of the largest Russian developers and publishers of browser and client MMOs, as well as games for social networks and mobile devices. The portal includes a gaming center, a gaming industry news aggregator, and a community of players. Opened in May 2006. "Mail.Ru Games" is a developer of client online games such as Warface, Skyforge.
Sport Mail.ru is a sports news aggregator launched in September 2010.
Hi-Tech Mail.ru is a high-tech themed website launched in December 2007.
Pets is a project about pets launched in February 2018 with the support of the Purina pet food brand.
All Pharmacies is an online drug search and ordering service launched in April 2018.
Hi-chef is an online culinary project launched in December 2019 based on a collection of recipes from the editors of Lady Mail.ru.
Dom Mail.ru is a project about all stages of interaction with the house, launched in November 2019.
"Marousia". In November 2018, Mail.ru Group began writing the Marusya voice assistant program.
Mail.ru video calls. In April 2020, a video call service began to operate as part of the Mail.ru Group mail service.
Conclusion. Mail.Ru is a great platform to find traffic and leads in Russia as it is the largest platform that covers a huge number of people in Russia.