Geozo – high-quality traffic at affordable prices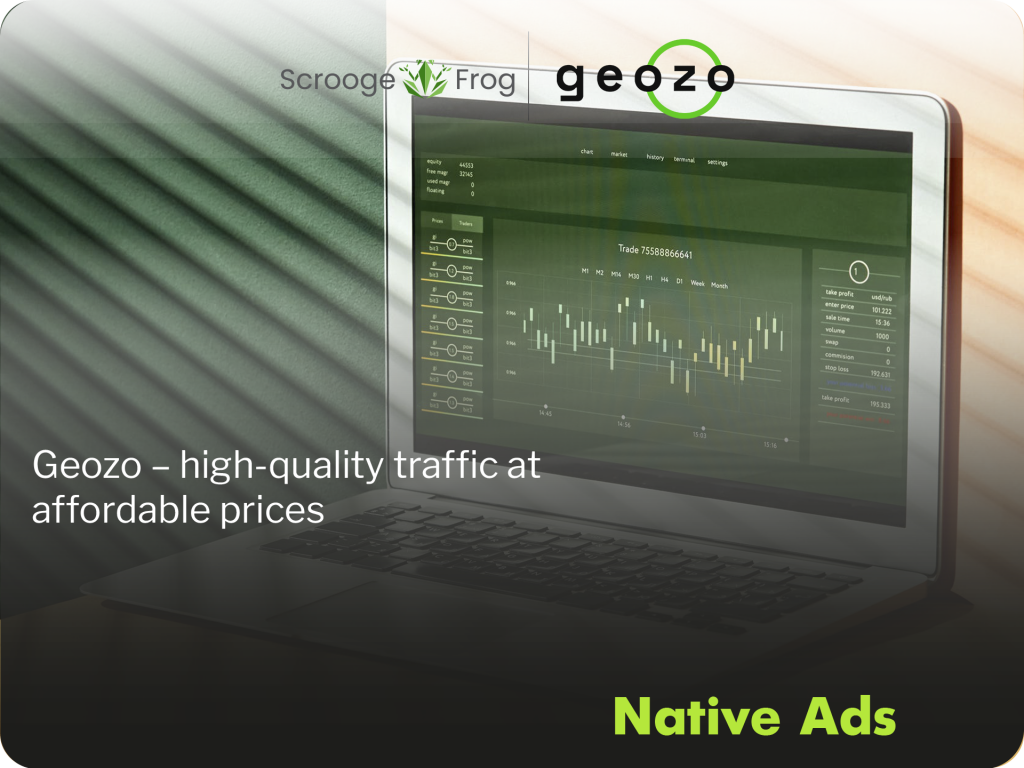 The future of advertising lies in non-intrusive methods that offer appealing and valuable content to users. And this is where native ads take the lead! Today, we would like to introduce you a platform designed to assist with native advertising – Geozo. This international adnetwork provides effective solutions for both publishers and advertisers and strives to achieve exceptional outcomes for every partner.
Why native ads are so effective?
Native advertising is a type of paid advertising that seamlessly blends into the style and functionality of the media format in which it is presented. Native ads often appear as featured content on websites, either below or alongside the articles. Native advertising effectively overcomes the phenomenon known as "banner blindness" and generates 85-95% more clicks compared to traditional banners.
If you are a product owner or marketer, native advertising can effortlessly boost your revenue. It serves as a highly efficient tool for attaining business objectives and ensuring maximum exposure. Geozo guarantees visibility for your product ads and ensures they capture the attention of your target audience.
What verticals does Geozo work with?
Nutra,
White-hat offers,
Finance,
Crypto,
Content Arbitrage.
What geos does Geozo work with?
Austria,
Bulgaria,
Croatia,
Czech Republic,
Germany,
Hungary,
Italy,
Poland,
Romania,
Slovakia,
Slovenia,
Spain,
Indonesia,
Mexico.
However, the list of current countries changes pretty quickly, because new geos are added by the Geozo team almost every month. Before launching the traffic, we recommend you ask your personal manager to provide you with the list of available geos.
How to launch ad campaigns with Geozo?
The traffic purchase is available on a CPC basis. The Geozo team has done an exceptional job creating a platform suitable for both seasoned professionals and newcomers. The process of campaign launching and optimization is simple, thanks to the intuitive interface of the self-serve platform.
Targeting options ensure that your ad campaign reaches the relevant audience. You can target by geos, ad units, devices, time zones, categories. Frequency capping is automatically applied for the highest efficiency of your advertising budget. Geozo's strong anti-fraud system ensures your ads receive the traffic of the finest quality. And if certain ad units bring you higher results, feel free to add them to the White list to drive even more traffic! It goes without saying that the Black listing is also available for your optimization purposes.
If you have any questions or need assistance during the ad creation process, Geozo is renowned for its personalised approach. Support managers possess extensive expertise and can provide guidance or recommendations as required.
Geozo offers fast and flexible moderation services, eliminating the need for lengthy campaign waiting periods. The moderation team operates 24/7, and ad approvals typically take no longer than one hour. Geozo's managers are always available to assist you in making any necessary adjustments to get your ad approved.
Another great thing about Geozo is that the bidding competition is still not over-heated. It can be quite difficult to purchase traffic at a reasonable price on advertising networks that have been on the market for quite some time. It takes more and more investments just to overbid your competitors. At the same time, Geozo has only recently gone public and can boast affordable prices and a regular flow of fresh traffic. Don't miss the opportunity to be among the first to test their new publishers.