Binom — a lead tracking solution in the marketing world

The most valuable resource is time. An indispensable tool in marketing is a speed tracker. Different factors depend on the tracker's speed, such as conversion rate or ROI. Today, I want to tell you about one popular and reliable tracker — Binom.
The first thing why a tracker is needed nowadays is to control all the parameters of advertising campaigns and analyze traffic, it gives information: from which device and source the user came, which browser and OS he used, which creative was more successful. The tracker contains all information that will give you an understanding of the user's behavior.
What makes Binom stand out from other trackers?
Self-hosted tracker;
Easy user interface in Russian and English;
Fast redirects, unlimited number of clicks on the base plan;
Click is handled in 7 ms;
The usual response from support takes 2 minutes (Skype, Telegram, email, live chat).
The purpose of Binom is to save your time, increase efficiency and bring you profits.

Features:
Adaptable traffic distribution system. With Binom you can spread traffic by 20+ metrics, including its proxy, originality, time of day, IP range.
Event system. Watch metrics: the percentage of bots, scrolls, interactions with forms, and any metrics on landers.
Integrated landing pages. Save the landing page code in the tracker, and it will open to the campaign URL without any redirects.
Accurate reports of ad campaigns. Statistics concerning paths, rules, rotations. Group reports. More than 35 click metrics.
Working with multi-layered, saving, and smart filter systems.
LP Pixel. By using LP Pixel, you may easily send all traffic right away to your landing page without redirects.
Price and trial period
The price is a bit higher than other competitors can offer, but there is an opportunity to work as a whole team in one account. The result justifies its price. Also, Binom has a demo version for 14 days, so you can try it for free to make sure it is worth it. You can ask support to extend the trial up to 30 days.
The tracker saves all information like offers and landings. Data is reserved on your server, so you will not lose any material.
What you probably don't know is that: Click the round icon, and you will be able to choose the color for your campaign. It will help you to filter campaigns (#blue, #red, etc.).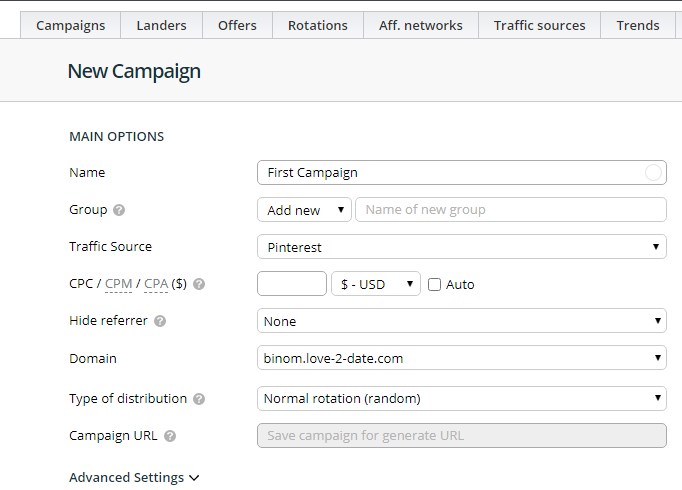 One of the best functions of Binom is that you can send traffic source tokens in the URL's parameters. Open the settings and click the additional settings section, copy the LP Pixel code. Between the head tags of your landing page's HTML code, put the code. Select your landing page in the campaign settings to have LP CTR counted. All the clicks will be shown in the report as though they would have been sent through the Campaign URL. The metrics and sorting reports will be shown as well.
JS Protection. With a help of this tool, you can send traffic to the landing page, then change the content if Binom detects some bot traffic.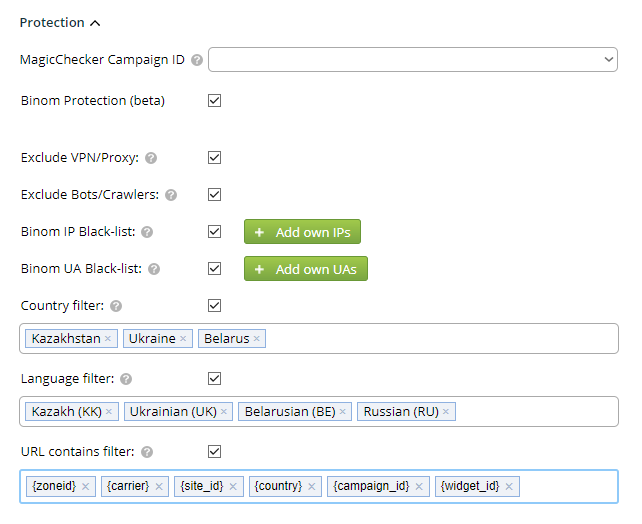 MagicChecker Integration. It is a tool that detects bots and proxy/VPN traffic. To work with it, you should sign up first and then pay a subscription.
Adspect Integration. Also helps to detect bots and proxy/VPN traffic. Need to sign up and pay for a subscription.
API. API shows any data from the tracker in JSON format.
Copying landing pages option.
Upload landing pages to a tracker through direct links and use them as integrated landings. But remember that vast pages may not be copied. Click Landers, then Grab.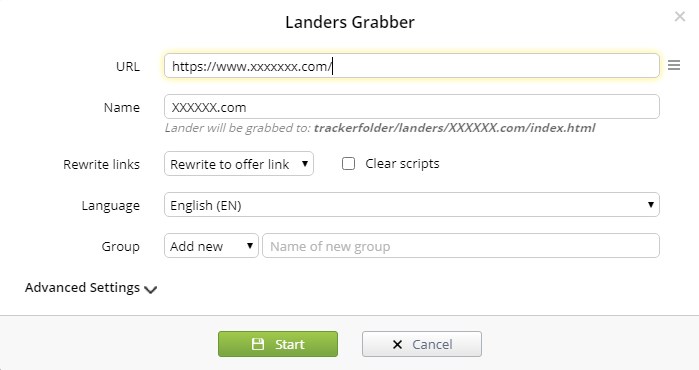 In the URL line, enter a landing page that must be copied. If you need to copy many pages, specify each URL in a new line. Name it. Choose a macro and language, group, add code and select the extension: HTML or PHP.
Main conclusions:
Binom is a rapid tracker for dealing with immense traffic volumes. A click processing time is just 7 ms, which makes Binom outstand from other trackers in the present day.
A simple interface combined with remarkable reporting speeds makes this tracker be on top of marketing helping tools. Binom spreads traffic between landing pages and offers, can easily count costs and revenues, combines them into one report, and besides, calculates profit and ROI for different metrics.
You can install the tracker by yourself. It has an Anti-spy element, LP Protect function will hide the landing page if you open it via a direct link.
Fast self-hosted tracker with license price that does not depend on the number of clicks.