Taboola – international creation of interests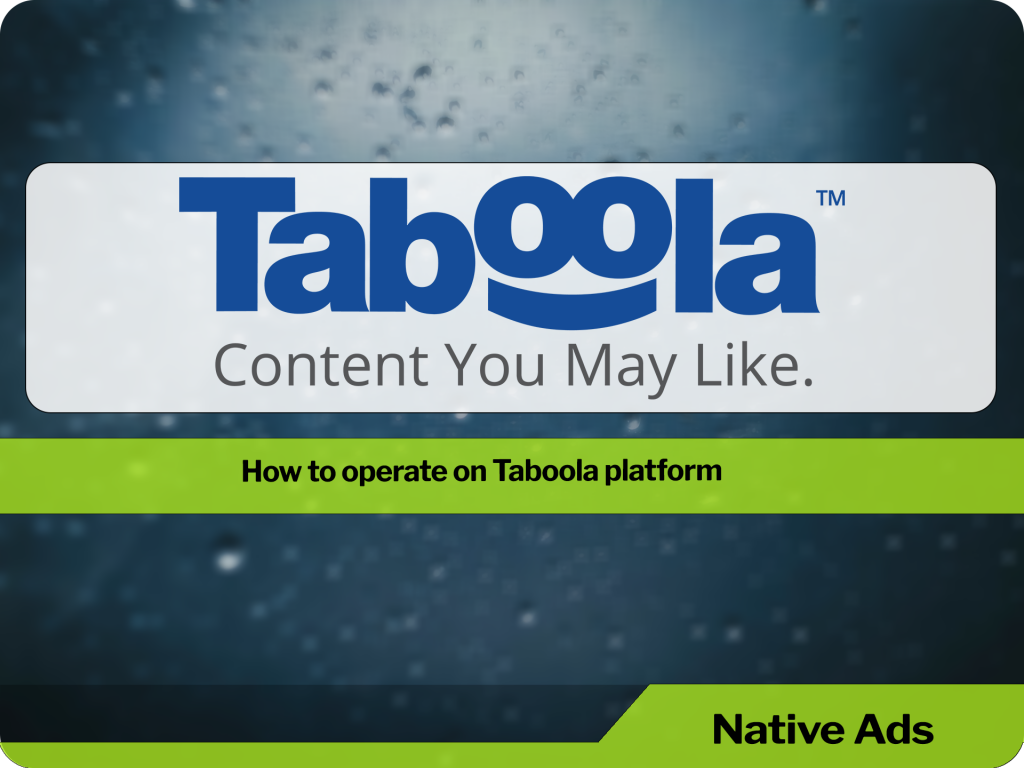 Taboola is the world's largest discovery platform. Through Taboola exclusive partnerships with many of the world's top publishers, serve 450 billion content recommendations to over one billion people across the web each month. Taboola was founded in 2007 by Adam Singolda and its yearly revenue now surpasses $1.2 billion.
Taboola creates the "Around The Web" and "Recommended For You" boxes at the bottom of many web pages. Additionally, it can recommend relevant content, including video content. Taboola is used by content publishers to encourage users to view more articles on the same site, or to gain revenues for referral traffic. Marketers and brands bid for views of their content. Then, an algorithm displays the advertiser's content to certain website users based on the content the user is viewing, the content's length and metadata, the user's history, and other factors. Taboola also has tools for publishers to remove offensive content and vet ads before they are displayed.
Taboola provides approximately 450 billion article recommendations each month.It is implemented on a website with a line of JavaScript. The Taboola Choice feature, which was introduced in 2013, added the ability for users to filter out recommendations they do not want to see. An API for mobile apps was added that December. Taboola started working on extending more features to mobile devices, user-generated content, and apps in 2015. In 2017, the company added a Facebook-like scrollable feed of links to articles and videos.
With its large scale, unique content consumption data, and world-class AI technology, the platform helps thousands of advertisers reach their audiences with compelling native ads in a brand-safe environment. Consumers see your content or product when they are in "discovery mode" and are most open to discovering something new and exciting. Taboola has proven to be effective throughout the shopper journey, from raising awareness to driving online shopping.

The Taboola platform is powered by deep learning technology that uses Taboola's unique data on people's interests and information consumption to recommend the right content to the right person at the right time.

Whenever you launch your campaign with Taboola, algorithm analyzes your content and extracts a large number of "signals" that will help the technology match it with the people most likely to participate and act. The algorithm predicts good matches in the Taboola publisher network and starts recommending your content by collecting the results.
Over time, the algorithm learns which audiences are more likely to engage with your content based on their reading preferences, browsing history, device, location, time of day, and more, and the accuracy of the predictions improves.

It's important to give the prediction engine time to optimize your campaign and test a range of content elements, headlines, and images. Taboola's built-in tools and features remove the doubts of blind testing and provide performance improvement recommendations to reach the best audiences faster.

The Taboola algorithm takes into account two important factors to help figure out when and where to recommend elements of your campaign: click through rate (CTR) and cost per click (CPC).
Creation of a company. The very first thing you need to choose before creating a campaign on Taboola is the marketing objective.
Also it is very important for our specialists to have a platform that provides flexibility. This option allows you to select different marketing objectives for different campaigns.
For example, let's say you want to redirect people who haven't subscribed to your newsletter. This is where lead generation can help.
If you're an e-commerce brand, Taboola's machine learning can use the Buy Online objective to ensure optimal performance and maximize sales within your budget.

Audiences. No matter what industry you're in, you're almost guaranteed to find an audience that you can target with great success. Taboola segments the audience by targeting to:
custom
marketplace
contextual
Custom audiences are audiences created from third-party data. The Marketplace gives you access to a wide range of premium inventory on the Taboola network, such as B2B partner custom audiences, behaviors, interests, or demographics.
The last option is contextual.
Contextual targeting is very powerful and definitely one of the best Taboola options. Here you can target article pages and reach an attractive audience. Because of this, accommodation can become a bit more expensive.

Creative and stock. When you set up your creatives, Taboola gives you the option to use stock images. I find it very helpful, it saves a lot of time without having to go back and forth with the creative team.
This feature is not available on many platforms.
It's also much easier than uploading a bunch of images. This feature will come in handy if you mostly use native creatives, which you should do anyway.
Recommendations. If you've ever used Google Ads, you're probably familiar with the recommendations tab. Taboola has its own version of the Recommendations. Basically, this is what the name suggests, a list of changes you can apply to your account to improve performance.
When recommendations are available, you will also see them at the campaign level in the chart icon. For example, it can be budgets or rates.
Expenses. Taboola's average CPM is between $0.37 and $1.12, and the average CPC is between $0.37 and $3. These numbers may vary by country, location, and purpose. High-quality publishers and competitive countries such as the US raise prices. However, if you have a global brand, you may find great opportunities in Europe, for example, where advertising costs tend to be lower but still of good quality.

Conclusion. The platform is very well-known, it has many functions, personally in our experience we often use Taboola and offer it to our clients. If you are looking for great traffic write to us and we will launch successful advertising on Tabоola!