How does the Sweepstakes vertical work in the US?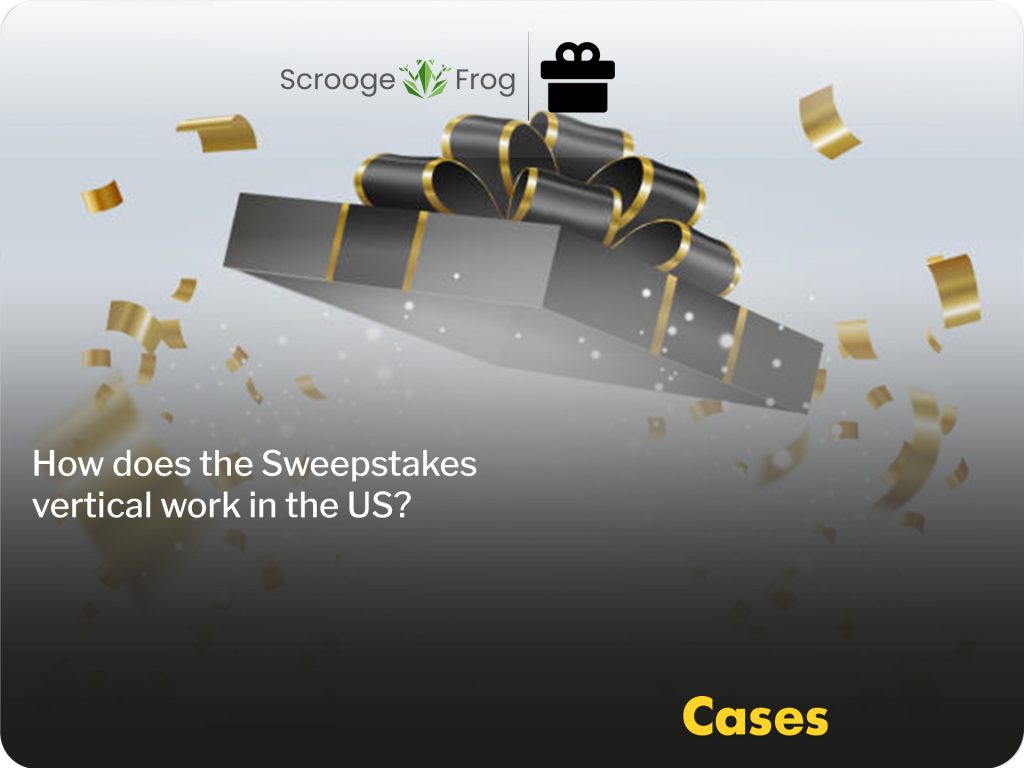 Our next case is dedicated to advertising Sweepstakes and what results we have achieved with the help of advertising on different platforms. Our client set the task – to increase the number of leads, that is, the number of people who will be registered. Win for the lead 1000 dollars cash coupon for registration! Geo US.
Time passes, the main trends change, but Sweepstakes is still on top. Sweepstakes are various lotteries and practical jokes where users can randomly win a coveted and usually expensive prize. Initially, the vertical was associated specifically with the draw of mobile phones: iPhones and the latest Samsung models have been in the top of this vertical for many years. But time goes by and trends change, today sweeps are not only a way to win the latest phone model.
Gadgets, store gift cards, Xbox, PlayStation, sneakers, and even baby products are options to offer as a prize.
Sweepstakes in advertising help the draw organizer (advertiser) to get a user base for further work.
As a rule, offers with sweeps have a small questionnaire where users share information about themselves: age, gender, address, habits, sometimes even providers.
Advertisers not only collect an email database of potential customers, but also information that will be useful to them in the future. For example, in the USA there are a huge number of contractors who offer Internet / gas / electricity connection services and other household services. It is relevant for them to find out who is currently supplying electricity to the client's home and whether he is satisfied with the quality of services.
Sweepstakes helps large companies get data and use it to send promotional offers or develop marketing strategies. Some advertisers can also make money by reselling data they have already used.
Our task was to promote pre-landing through creative graphic banners and video clips on BIGO Ads and it combines high-quality traffic of Likee and also represents IMO.
Let's understand the analysis of these platforms, and move on to the results!
IMO is a web service and cross-platform application for instant messaging and VoIP calls. After all IMO is an instant messaging tool. According to its developer, the service possesses over 200 million users and over 50 million messages per day are sent through it.
Likee is a social network where users can create and share short music videos with the ability to add special effects and augmented reality. Likee was originally known as LIKE until mid-2019, when it was rebranded and redesigned. As of the second quarter of 2019, Likee's mobile monthly active users had reached 80.7 million. In 2017, Likee was rated as one of Google Play's Best Entertainment Applications.
Advertising creative examples:
Our target audience was people from 25 to 55 years old from the USA, but we expected and received a good result, we met the KPI from the client.
The number of conversions in the last 30 days with a video ad creative for each platform will vary due to the format of the platforms themselves. Likee is about video content as an analogue of Tik-Tok, but IMO graphic content, and the number of users in IMO is greater.

Results:
CPA – 2.8 USD per lead
CPC – 0.05 USD per click
Conclusion. Let's return to the task, we brought leads and the cost per conversion corresponded to the client's KPI. Also, the draw vertical is more relevant than ever on the eve of the winter holidays. Therefore, especially in US geo, this is still very relevant. Based on our experience with advertising platforms, they worked well and video creative is suitable for social networks like Tik-Tok and Likee, but banners for messengers like IMO.