Voluum – a tracker that keeps all data with just one platform

It is a tracker that keeps all information in one place, perfect for desk and mobile. Helps to monitor clicks, visits, profits, and other useful data with one platform.
The best option about Voluum is that your data is safe as it is the safest legislative platform.
This article will make clear why Voluum is worthy for marketers.

First what you should know is that Voluum is a product of CentralNic Poland, an EU—registered company. That means all data is controlled by GDPR legislation.
What does Voluum do?
Voluum records all information and actions that users do on a site: it records the IP address, user agent, timestamp, etc. It tracks visits coming from other web pages and search engines.

Profile:
Cloud-based tracker;
Simple and easy user interface in English;
Demo version for 14 days for free.
Strengths:
Rule-based targeting. It delivers traffic to multiple landing pages and offers based on individual rules. The function targets ad campaigns and rises more conversion rates.
Direct Tracking Pixel. Sends traffic from direct clicks to the landing page, making the process easy with sending visitors to your offers, it works even in the regions where the connection is quite poor.
Track users' behavior and actions. Manage your data: loading conversions, updating costs taking into account the loss of traffic, etc.
Offer more than 30 metrics about each impression, visit, click, and conversion that you can work with online.
Anti-Fraud Kit detects suspicious clicks and visits automatically and discovers inadequate traffic.

Tracking feature: you can easily track mobile and desk ad campaigns in one place, so you will not miss any conversion or click. You can manage affiliate conversion tracking like monitoring visits, clicks, metrics, and profits, the status of your payment in one single platform.
Organic traffic tracking: track visits from different web pages, not only from the Direct Tracking URL.
Impression tracking. Tracking the ad impression every time the ad is loaded on the page.
Optimization feature: accurate campaign settings with smart targeting will help you to get effective traffic.
Real-time reporting helps to check your campaign data in real-time.
Error log helps you to detect errors about wrong ad setups and other troubles connected with external platforms.
A/B split testing gives information on what offers and landing pages bring good results.
Automation features: you do not have to do all work by yourself, Voluum will make everything automatically to save your time and increase the result.
Notifications let you watch campaigns via the mobile application or desktop. It allows managing your data everywhere and shows push notifications, so you don't miss any important announcements. Available for iOS and Android.
Bot filtering (IP/UA) with the help of IP range and user agent values, the tracker filters out known bots, sets up filtering rules to make the process easy without bots.
Voluum DSP integration lets you buy, track and increase your native advertising. There are many useful features and 20+ premium networks in one panel.
Statistics for the cheapest tariff—stored for 3 months, and the basic one — 6 months. Support speaks English. If we talk about speed and proficiency, Voluum can be the missing key in dealing with running ad campaign problems.
To work with Valuum you need to go to Campaigns, then click the Create Campaign button.
Select the Campaign Simple or Campaign Advanced option.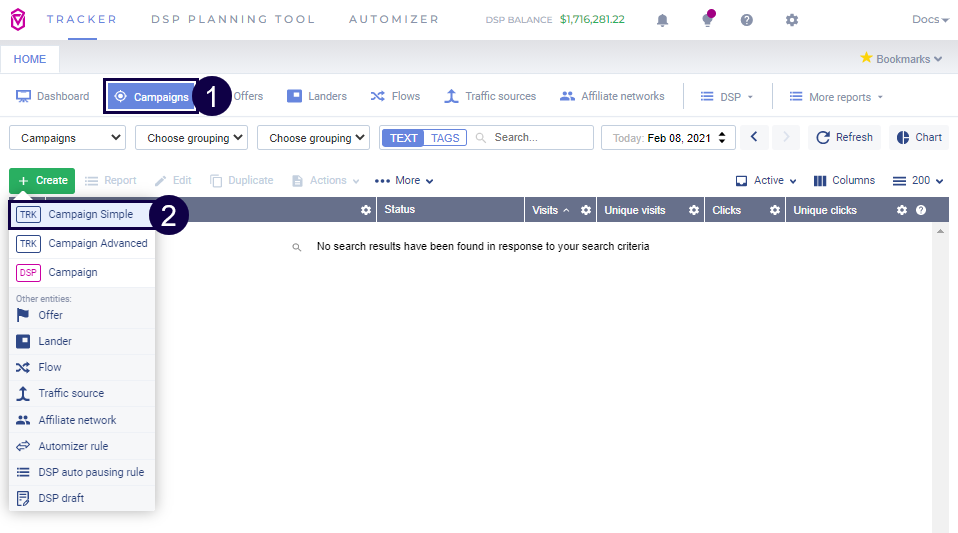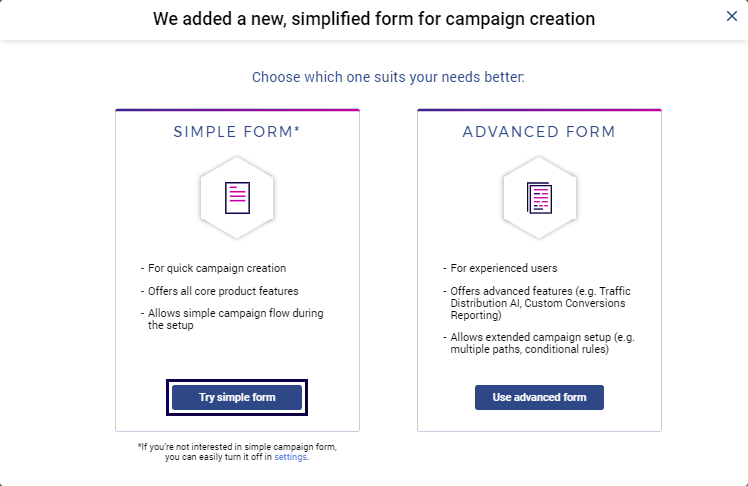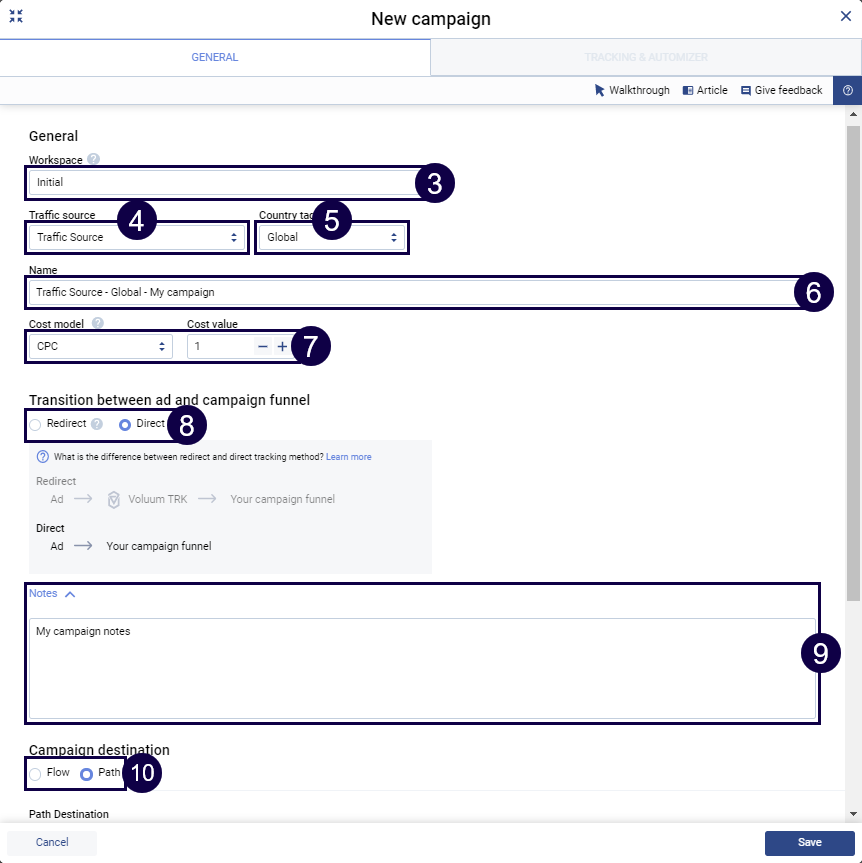 Fill in all the needed information like Workspace, Traffic source element ( will be automatically added as a prefix to the campaign's name), select a Tag, and put the name of your campaign in a Name your campaign text field. Select one of the Cost Mode radio buttons and choose what your path's transition should be. Click the Save button, so now a new campaign is created. Copy the campaign URL by clicking the Copy button and submit it to your traffic source platform.
To sum up, Voluum is a tool that controls the entire optimization process, allowing tracking ad campaign metrics, ad impressions, visits from different web pages and search engines. With Voluum you can create blacklists or whitelists of creatives, sites, widgets, zones, and others, and control your traffic source bid values straight from the ad tracker.
Even if you do not have access to your desktop, you can always control ad campaigns via a mobile app. Available for iOS and Android.