Cybertron Ads advertising network – a great option for targeting in Africa

Cybertron Ads is an online service that allows you to expand your audience and increase sales of any goods and services on the Internet through creative advertising.
Creative advertisements are paid on the CPC or CPM model and are placed on network sites. In order to get income from traffic sales, a network's websites have a variety of original content, attendance from 100 unique users, and built-in statistics. Cybertron Ads allows advertising on a variety of topics, including adult and gambling. Cybertron Ads allows you to use the next ad types:

Banner 160×600 Tower Banner
Banner 300×100
Banner 300×250 Medium Rectangle
Banner 320×50 Mobile Banner
Large Rectangle 336×280
Leaderboard 728×90
Native 1200×628
Pop Under Ad Ty
Pushdown Banner 970×250
Video Ad

Cybertron Ads provide detailed statistics. In this network, you can export overall statistics, day-by-day statistics, month-by-month statistics. You can also see detailed statistics on advertising campaigns.

The main advantage of Cybertron ads is the full provision of buying and selling traffic. The exchange automatically selects necessary sites according to customers' requirements and undertakes obligations on the realization of financial issues. Advertisers get significant volumes of traffic at affordable prices. With Cybertron Ads you can show ads in:

Ghana
Kenya
Korea
Nigeria
South Africa
Tanzania
With Cybertron Ads you can reach users in selected countries, regions, cities hours, days, period, operating system, etc. You can choose from the next operating systems:

Android
BlackBerry OS
Windows
Windows Phone
iOS
Advantages of the Cybertron Ads advertising network
Low cost. Cybertron Ads advertising network compared to contextual advertising services is heaven and earth in terms of click rate.
It's easy to create and run an ad campaign. To create a banner in Cybertron Ads is the same as creating a post on a social network. To make an advertising message you need an enticing image + an intriguing headline and a short description of the CTA. That's it. Running banners in the Cybertron Ads network is a matter of 2-3 minutes.
High efficiency. Cybertron Ads demonstrates good indicators of clickability.
Wide coverage of the target audience in Africa. Cybertron Ads network shows ads to a huge contingent of users in Africa. Owners of commercial projects on the network quickly get thousands of hits.
How to start targeting in the Cybertron Ads advertising network?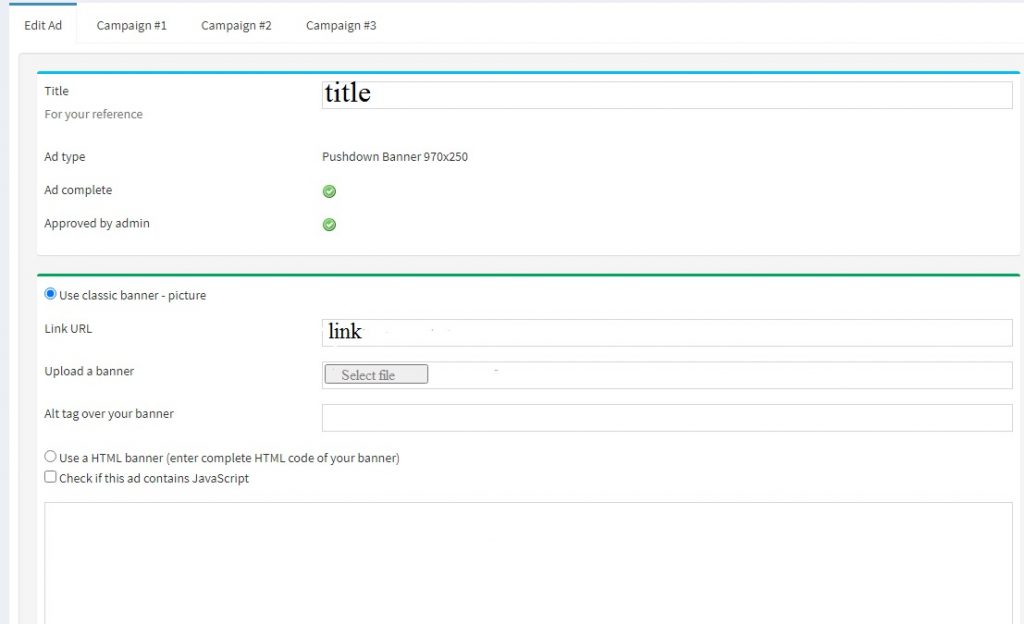 The advertiser start targeting in the system by creating a title and choosing ad type. Then you need to add an image, link URL, and alt tag over the banner. At the final stage, you need to choose days and hours when to show your ad, operating system, and countries. When setting up an advertising campaign you also can specify the field "Never use more than", "Valid from" and "Valid to". Cybertron Ads also provides you with the possibility to specify keywords for your advertising campaign.
Conclusion
The Cybertron Ads advertising network has been running since 2021 and includes 10 different ad formats, with over 10 million daily clicks, both desktop, and mobile traffic. The customization system allows you to create a competent advertising campaign and keep the traffic at the same level.

The creative advertising network Cybertron Ads also offers excellent targeting options. The network supports the main payment models – CPC and CPA, and the pricing is based on the auction type: the higher the cost, the more traffic.

You can order the advertising of your product with this solution in Scrooge Frog Ltd