Why you need TikTok Analytics?
Are you an influencer, brand marketer or any agency? Whether it is TikTok, Instagram or Facebook you need analytics to measure, track & identify the performance of your content. In this article, we listed the best TikTok analytics tools which can help you with:
Analyze your & competitor Profile & Hashtags
Monitoring the Profile & Videos
In-depth Insight of trending Videos
Campaign Reporting
& much more
Regardless of your style,the short video revolves around short lip-syncing videos or memes or comedy sketches. The main idea is to be able to market yourself as an influencer to the target audience. To achieve that, it is important to keep tabs on and capitalize on the analytics of your Tik Tok app. Using TikTok analytics allows the user to know what is expected of him or her to boost their popularity. Also, it gives a better understanding of what kind of content does the target audience is most reactive to, which again feeds into the popularity of the user. TikTok analytics is a useful tool that can help TikTok stars in more ways than one and help them reach new heights, especially with quick short videos trending in the social communities.
TikTok Revenue and Usage Statistics:
TikTok is very familiar to everyone. Checkout some Tik Tok statistics that you will amaze to know:
Key TikTok Statistics:
As of October of 2018, TikTok has seen over 800 million installations excluding all the Android users in China and was downloaded 68 million times all over the word.
This made TikTok the third most downloaded app in Google Store as of October 2018.
With the average time spent on TikTok each day being 52 minutes, TikTok's parent company, ByteDance, gained a net worth of 75 billion dollars making it the world's most valuable private held startup.
User Statistics on TikTok:
TikTok is available in 150 different markets and over 170 different languages.
It has over 500 million users worldwide as of July 2019 (Datareportal) and since then, the number of active monthly users has kept increasing.
According to the report by Sensor Tower, a marketing intelligence firm, within the first half year of its release, TikTok was downloaded over 104 million times on Apple Store making it the highest downloaded app on the platform for that time.
TikTok Usage Statistics:
TikTok has managed to gain a huge surge in popularity in recent years especially in Asian countries.
TikTok has been ranked the number one in 11 out of 12 Asian countries as the 'best and most downloaded app' beating the likes of Instagram and Snapchat by a hefty margin.
Also, in the USA, as of October 2018, TikTok is ranked number one for the most downloads, beating Messenger and Snapchat by over 3 and 6 million downloads respectively.
Best TikTok Analytic Tools to Use in 2020
As mentioned previously, having access to an analytic tool can greatly help in improving one's content on TikTok and meeting the expectations of the viewers to promote more engaging content in that light, here are some of the best TikTok analytic tools for the app's users:
1. TikTok Analytics: Provide Insight of Performance and Engagement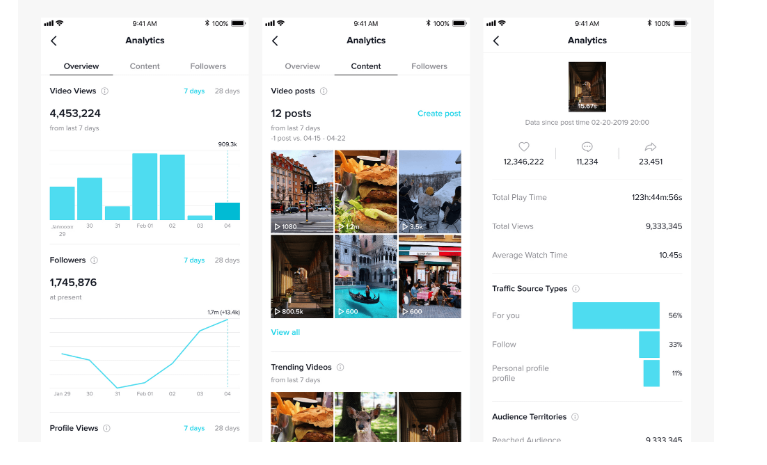 2Analyze TikTok ProfilesTikTok has launched an internal analytic for its pro accounts. A Tik Tok account allows the user to have the analytics of the past 7 to 28 days' worth of activity on the account. Switching to the pro account will allow the user to see their video views, keep tabs on and follow their growth on the app, see other data like the gender percentage of their followers, and the top countries where their videos are trending. One can also view their followers' insights and the stats of other TikTok users. As of now, the TikTok analytic for the pro account is free and accessible by everyone.
How to Enable TikTok Pro Account

To enable this feature is very easy & simple for any TikTok user. Follow the below steps:
Go to your profile page then click on Privacy & settings tab.
Select Manage My Account.
Click Switch to Pro Account.
After the activation, you will see the new analytics button in your account options.
Now It's your turn to explore the insight data of content performance.
2. Tik Analytics – Analyze TikTok Profiles
Tik Analytic is a free to use website that allows anyone to search any TikTok account and see their profile statistics and last posts. By visiting Tik Analytics and entering the name of the TikTok user, one can find all sorts of information like the rate of engagement on the app, the number of videos uploaded, total number of fans, and total hearts received by the user. Users can also find the graphical spread of the history of likes, followers and media of the TikTok account user to get a clear sense of the users' activity and approach to the TikTok app.
3. Pentos – Best TikTok Analytics Tool

Another TikTok analytics tool, pentos allows people to detect TikTok influencers and track their content on the app, their hashtags, uploaded songs, challenges and trending, and their overall content. By visiting Pentos, people can sign in and access features that will allow them to get access to the TikTok data of any influencer. Not only that, if you are a TikTok user yourself, then you can also analyse your content and see where you are excelling and whether there is room for improvement.
Pentos has a three-tier of "Free" "Growth" and "Pro" signing up a subscription that offers different features.
People can sign up for free with the option of having the feature of monitoring TikTok users and having access to 1 month of data of any TikTok user.
The Growth plan costs a monthly subscription of €29 for the added features of the hashtag, post and user monitoring, and gaining 3 months' worth of historical data for a TikTok user.
The Pro subscription costs €99 per month and allows access to all the features of the other plans with added features like song monitoring, monitoring of trending videos and trending hashtags, and upto a years' worth of historical data.
4. Analisa.io – Analyze TikTok Influencers Profile

This site is a popular choice for the monitoring of analytics for both TikTok and Instagram. This site allows anyone to search a user of Instagram or TikTok by entering their "@profile" or can search by hashtags. Analisa.io provides features like campaign reporting, follower demographics, follower authenticity, engagement, content and competetive analysis
Analisa.io has four subscription offers with varying degrees of features that are available; Basic, Premium, Plus, Pro with monthly/yearly subscriptions being free, 59.35 USD, 109.55 USD and 199.35 USD respectively. , influencer mapping and tagged relationship.
5. Tikrank – Free TikTok Influencers & Analytics Tool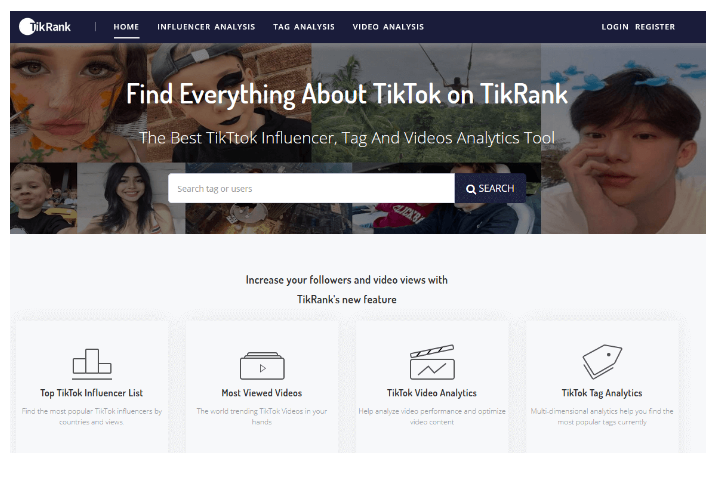 Similar to that of Tik Analytics, Tik Rank is a free to use website that offers people the opportunity to check and access the usage and statistical data of TikTok users. From TikTok tag analytics to video analysis, influencer list, and even the most viewed videos of individual TikTok users, people can gain access to such information in an instant. TikTok users can even check their statistics and information using this site.
6. Popsters: Analytics Tool for TikTok
Popsters is a site that allows you to compare and go over the stats of the social media page of any influencer. Popsters allows people to check their own or other's popularity on different posts and also shows the monitored performance indicators highlighting the highs and lows of social pages and the subsequent uploads.
7. TikTok Monitoring Tool by Storyclash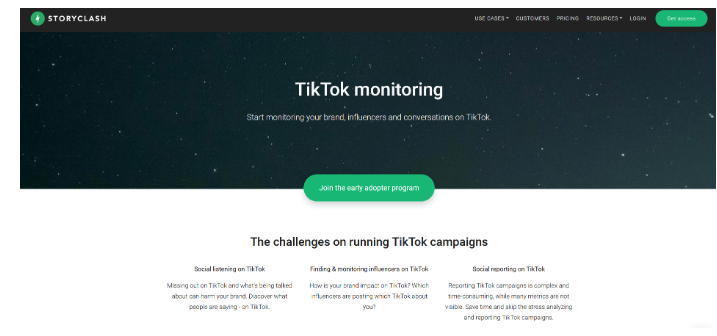 Using storyclash, people can monitor their own brand, other TikTok influencers and even conversations on TikTok with ease. With features like social listening, finding and monitoring TikTok influencers and social monitoring, one will never miss out on the latest trends of your favorite influencers and be able to create engaging and quality content of your own.
Storyclash has different prices depending on what type of monitoring you are looking for. From €2.000 per month for brands, €1.000 per month for agencies and €500 per month for publishers, one can choose the type of monitoring they wish to have on TikTok.
Conclusion
TikTok is still as popular as it was when it was first launched and is still going strong. Having an analytic tool at your disposal will greatly help to ensure that you are at the top of your game if you are an influencer yourself. If you are an intrigued viewer, then by using the TikTok analytic tool, you will never miss out on your favorite topics and trends form your preferred TikTok influencers.