AppLovin's leading marketing software provides developers a powerful set of solutions to grow their mobile apps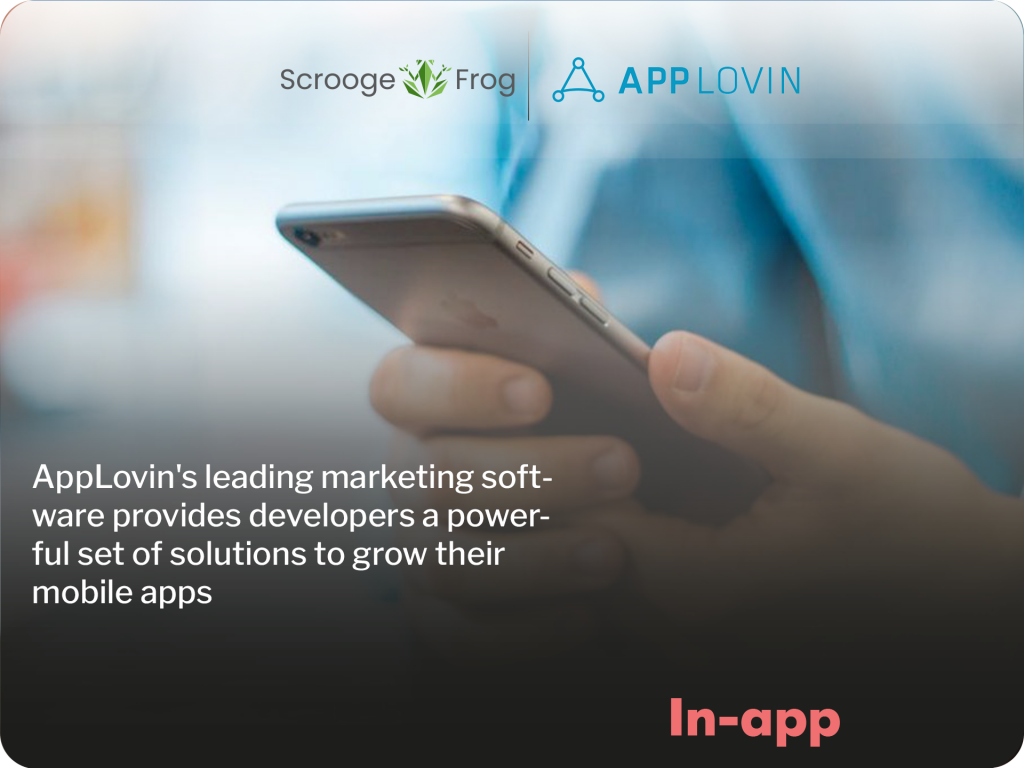 AppLovin's mission is to grow the mobile app ecosystem by driving the success of mobile app developers. AppLovin's software solutions provide mobile app developers with advanced tools to grow their business by automating and optimizing the marketing and monetization of their apps. Since its inception on the AppLovin platform, mobile app developers have installed over six billion mobile apps.
Their software, combined with deep industry knowledge and experience, has enabled AppLovin to rapidly expand its successful and diversified portfolio of proprietary mobile applications. AppLovin also accelerated market penetration through an active acquisition and partnership strategy. Their scalable and integrated business model is at the heart of the mobile app ecosystem, creating a strong competitive advantage that drives customer success and strong growth.
Over the past two decades, mobile applications have become an integral part of our lives. Mobile apps offer a wide range of applications, such as allowing users to seamlessly share ideas, shop, monitor health and access entertainment. Based on IDC data, AppLovin estimates their total market opportunity at $189 billion in 2020, rising to $283 billion in 2024, or a compound annual growth rate (CAGR) of 10.6%. The growth of the mobile app ecosystem benefits mobile app users but makes it difficult for mobile app developers, especially independent (indie) developers, to scale and succeed in a crowded market. According to Statista, most developers don't have access to the marketing, monetization, and data analytics tools they need to stand out from the over 4.8 million mobile apps available on the Apple App Store and Google Play Store or attract enough mobile app users to creating and maintaining a successful long-term business. Highlighting how difficult it is to create a successful mobile app, SensorTower estimates that 80% of all mobile app downloads were created by 1% of total developers in the Apple App Store and Google Play Store in the third quarter of 2019.
The marketing and monetization challenges faced by mobile app developers are especially acute for mobile game developers, one of the largest and fastest growing segments of the mobile app ecosystem. There are more than 2 billion mobile gamers worldwide, according to IDC, and more than 1.3 million mobile gaming apps are available in the Apple App Store and Google Play Store, according to Statista. According to Sensor Tower, mobile games account for 39% of app downloads worldwide and 72% of all consumer spending in app stores by value.
AppLovin is critical to the success of mobile app developers, in particular mobile game developers, by addressing key marketing and monetization challenges. With technology and scalable distribution, developers can manage, optimize and analyze their marketing investments and improve the monetization of their apps. The key elements of the solutions are delivered through the AppLovin platform, which consists of AppLovin core technologies and AppLovin software. In 2018, with the ability to scale their own apps with software, ideas, and expertise in the mobile app ecosystem, AppLovin launched their own AppLovin Apps content strategy. Today, the apps represent a globally diversified portfolio of over 200 free games. mobile games in five genres operated by twelve studios, including studios owned by AppLovin (Owned Studios) and others with which AppLovin has partnered (Partner Studios).
The combination of the Platform and Applications forms a strategic flywheel that drives the growth of the entire business and promotes competitive advantage. As more developers use the platform's software to promote and monetize their mobile apps, AppLovin gains access to more users and more user engagement, further solidifying its massive adoption. As adoption grows, AppLovin gains a better understanding of the recommendation engine in core technologies, which then further improves the software. This ever-improving flywheel helps developers, including their own, create and maintain successful businesses by growing both their own AppLovin business and the mobile app ecosystem.
AppLovin expands its capabilities and strengthens its strategic position in the mobile app ecosystem by actively seeking acquisitions and partnerships.
AppLovin is a leading mobile app technology platform that enables developers to grow their businesses. Developers rely on AppLovin to solve their mission-critical functions with a powerful, full-stack solution with focuses on user acquisition, monetization, and measurement.
AppLovin, at its core, is built to propel the mobile app ecosystem forward with the industry's most advanced technology to deliver the highest quality results for developers. Because we're building and innovating for performance-driven technology alongside a fierce focus on execution, we've helped our app developers drive over 12+ billion installs.
Solutions and Key Features
MAX
MAX is a full-stack monetization solution for businesses looking to earn revenue through in-app advertisements. MAX is trusted by more than 100,000 apps to grow their mobile businesses efficiently.
Key Features:
Scale: With 20+ in-app bidders, 100+ demand-side partners, and 25+ SDK networks, MAX provides the most competitive and diverse set of programmatic auctions for in-app real estate.
Technology: Unified, equal-access auctions drive up competition and cost per impression while reducing the time and resources required to maintain a traditional waterfall.
Experiment with ad formats: With all major ad formats supported including banner, native, interstitial, and rewarded video— you will find more ways to drive in-app ad revenue by trying and testing.
360° growth solution: MAX makes it easy to reinvest revenues and use insights for impactful UA with AppDiscovery, creating a virtuous cycle of growth.
AppDiscovery
AppDiscovery helps mobile developers find high-quality new users at massive scale. This is achieved with AppDiscovery's proprietary machine learning technology that optimizes ROAS & other down-funnel events, with optimal costs and less risk over time.
Key Features:
Scale and reach: AppLovin's leading supply of in-app inventory includes 140,000+ mobile apps on 2B mobile devices to unleash even more growth potential for apps.
Advanced optimizations: With a defined budget and campaign objectives (Ad ROAS, Total ROAS, IAP ROAS, CPP or Event Optimized), AppLovin's fully automated machine learning solution allows devs to optimize marketing efforts for their most important KPIs.
Expert growth support: As a fully-managed service, developers will tap into growth experts and business development managers to achieve their goals and grow their entire business.
Creative optimization experts: SparkLabs is AppLovin's in-house team that uses creative strategies and data to produce high-quality, high-performing ads that drive down CPAs and jumpstart UA.
ALX
The AppLovin Exchange (ALX) is the leading mobile in-app RTB exchange, programmatically connecting buyers to its massive inventory, spanning 140,000+ mobile apps on 2 billion+ mobile devices globally. As a 100%-SDK direct source, ALX provides the most efficient means for purchasing this premium inventory to achieve better returns.
Marketers, agencies, and ATDs can access this massive supply through the 100+ DSPs that work with ALX. Inventory is bought on a per-impression basis in an auction environment.
Key Features:
Direct access: Immediate access to supply transacted in the most competitive and diverse set of auctions with in-app SDK integration.
Better quality: Massive, top-quality inventory and protection from invalid traffic (IVT) through industry best practices and leading verification partner, HUMAN.
Brand safety: Superior brand protection, including enforcement of app-ads.txt adoption, support for sellers.json, and integration with the IAB's Open Measurement SDK.
Spark Labs
SparkLabs is AppLovin's in-house team of designers, animators, and developers that use strategic insights, and hands-on experience to deliver a best-in-class ad experience. The team uses creative strategies and data to produce high-quality, high-performing ads that drive industry-exceeding results. SparkLabs stays ahead of the curve in delivering ads that showcase an app's brand in creative and engaging ways.
The advantages that the team and I found in the Applovin platform:
works all over the world;
9 trackers available;
there is a choice of an automatically generated creative;
convenient hints and highlighted tips;
service overview and instructions in video format;
determines the amount to participate in the auction;
collection of campaign statistics in real time.
In conclusion, AppLovin accelerates business growth with market-leading technologies. AppLovin's end-to-end software solutions support profitable growth by optimizing monetization and by using powerful machine learning to make data-driven marketing decisions. AppLovin partners with businesses to deliver personalized experiences at a massive global scale.