In-app platform AppSamurai is a good solution for promoting your application! Many convenient services in one place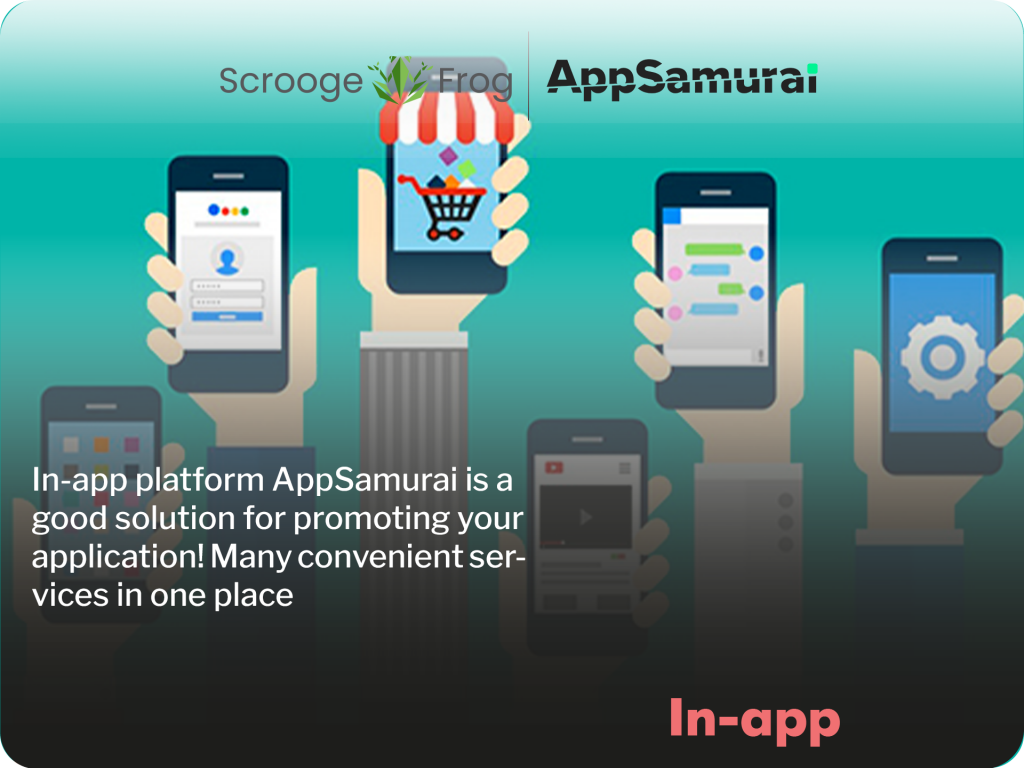 AppSamurai was founded in 2016 by Emre Fadillioglu, Mehmet Bilgin, and Seyhmus Ölker. The company is headquartered in San Francisco, California. App Samurai Group currently covers 3 continents, operating in 9 cities and opened offices in the USA, Germany and Israel last year. 
AppSamurai helps mobile applications and games to acquire, engage and retain users with a portfolio of products including a user acquisition platform powered by AI, a real-time fraud solution, and developer tools to improve in-app engagement.
AppSamurai's platform connects advertisers with publishers to reach the right mobile user with the right message at the right time in a secure way with full transparency. The company's creative studio enables us to use the most innovative and impactful ad formats to ensure an elevated user experience and a high level of engagement.
AppSamurai is an AI-powered One-Stop-Shop User Acquisition platform that provides advertisers with global access to premium placements. It aids in the achievement of performance goals by reaching out to the right users at the right time via various campaign types.
ROAS-Positive User Acquisition
App Discovery via OEMs
Influencer Performance Marketing
Rewarded Engagements
AI-Powered Optimization
User Acquisition
Create custom user acquisition campaigns based on your app's goals, audience targeting, and KPIs. Our optimization engine will ensure you spend your budget on users you care about!
OEMs & Recommendation Engine
Gain access to direct app placements on Android devices like Samsung, Oppo & Xiaomi – Go beyond your reach using our exclusive recommendation engines and bypass your competition!
Rewarded Engagement
Achieve an organic uplift and boost your app's visibility through our premium rewarded placements & direct offerwalls. Expand your user base to new heights!
AI-Based Real-Time Optimization
Optimize campaigns based on your app's historical performance, ad material, and target audience to increase efficiency.
One-on-One Client Success Support
1-on-1 client support both during and after your app's campaigns for continued assistance post-launch – including weekly reports, monthly strategic reviews, and competitor analyses to guarantee KPI fulfillment.
Let's look at a case to understand the effectiveness of working with AppSamurai!
How AppSamurai Boosted First Orders and Revenue for Getir with Wide-reaching App Discovery & DSP Campaigns
Challenge
After successfully growing in the EU market, Getir entered the US market and needed to expand its user base quickly and efficiently.
The app also aimed to ensure scale by maximizing first orders and growing its existing user base even further with App Discovery.
Solution
By leveraging programmatic placements on DSPs, we enabled the client to target the right audience with the right creative sets, highlighting their products of interest to draw attention and onboard them to their delivery service.
In addition to this, we ran App Discovery (OEM) campaigns to ensure scale by targeting Samsung devices and pre-installing the app in brand-new devices.
Results
525K New Users Activated
$220K Annualised Revenue
30% Increase in First Time Orders
We reviewed the main AppSamurai services and their recent case, which showed good results. We want to share our opinion about working with this platform!
Pros and cons of working with AppSamurai
Pros:
Fast moderation and attentive manager;
Since the main vertical of this platform is gaming, it works great and brings results;
It is also important that there is incent and non-incent traffic (motivated and non-motivated);
Payment for installation (varies from 0.7 USD, it all depends on the geo).
We did not find any cons, if you have a white offer and especially if it is a gaming vertical, then AppSamurai should suit you 100%!
Finally, we want to add that AppSamurai is an official Xiomi partner! Xiomi is a global brand that is trusted, so this is undoubtedly a good bonus to trust with the platform. AppSamurai is always evolving and expanding their services!