What is Google UAC and why should you use it for in-app?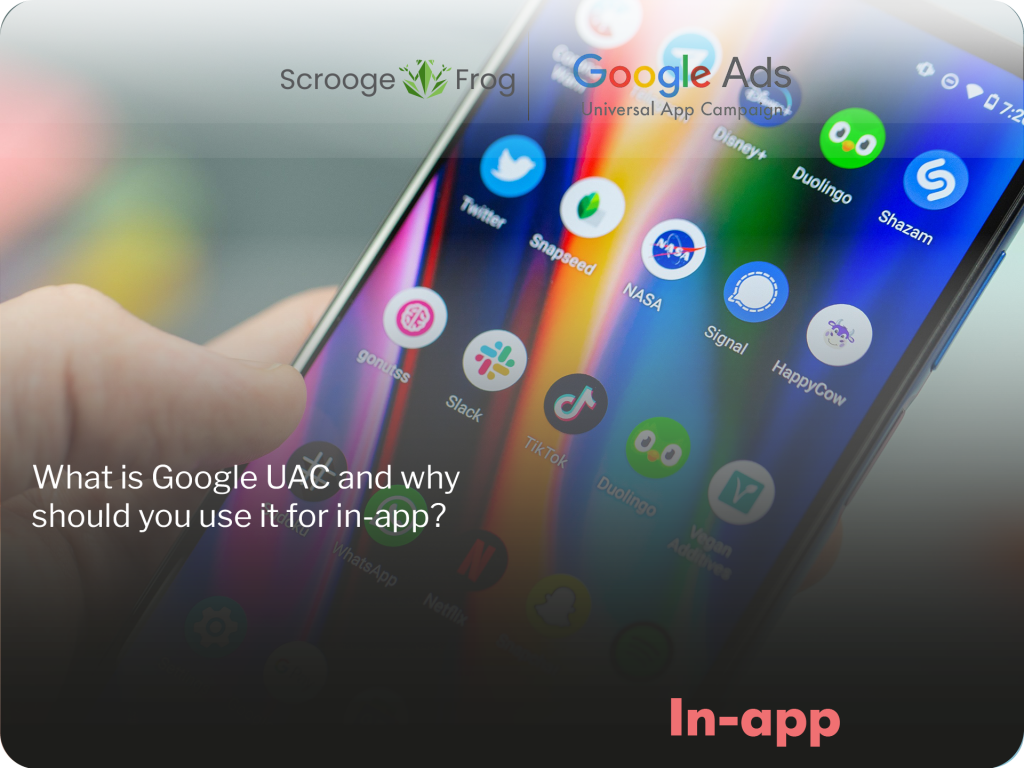 Google UAC is one of the Google Ads segments responsible for advertising mobile apps from Google Play and has a large pool of placements for promoting smartphone apps. The Universal App Campaign (UAC) was launched in 2015 and already in 2017 supplanted other app install campaigns. Let's take a closer look at what UAC is, who this advertising tool is suitable for, and how to configure it.
What is UAC and why is it needed? UAC is an automated ad format for app promotion. Such ads in Google Ads increase conversion by 140%.
Use the Universal App Campaign to:
increase the number of downloads of your application;
demonstrate a profitable offer to users;
automate advertising campaigns to promote programs;
encourage users to activities: registration, registration of applications, orders.
The fundamental difference between UAC and regular Google campaigns is that you don't need separate ads: you add a group of creatives, and the system itself generates advertising offers, evaluates user reaction, and gives preference to the most effective ones. In this they resemble Google's responsive search ads. The difference is that they are visible only in search results, while UAC is visible on the main advertising resources of the site: search, Google Play, YouTube, and the Display Network.
Pros and cons of UAC:
the key pros is the high efficiency of advertising campaigns due to complex machine algorithms.
Other advantages of UAC:
a rich selection of creatives: text, video, html-touch, banners, images;
huge audience reach: search, display network, Google Play apps, YouTube;
simple setup, which does not require special skills and knowledge;
automatic ad optimization.
Cons:
minimal impact on the advertising campaign – too few settings. Often you need to stop and start the process several times to achieve the goal.
lack of control over traffic – there is no way to exclude advertising from users by gender, age category, or other characteristics. You can not use "negative keywords", disable certain YouTube channels.
there are no detailed reports, so you have to rely on UAC algorithms, act intuitively.
How to set up UAC?
Create a Google Ads account and go to the New Campaign section. Next, select App Ads. The system will prompt you to select the type: installation, interaction or pre-registration (Android only).
Consider the details, for example, separation schemes by location and language:
Create campaigns for several countries and simultaneously launch an additional one on WorldWide. Group countries with roughly the same CPM (cost per 1,000 impressions). Use statistics for 30 days. Specify multiple languages for multilingual countries. This tactic is suitable, for example, for Belgium and Canada. The Universal App Campaign evaluates the performance of creatives by assigning a status: high, medium, low, learning. We advise you to get rid of low-performing creatives. An important parameter is CTR, which characterizes the number of clicks to the number of impressions. The higher the CTR, the lower the CPC.
To work with UAC, use the Firebase helper tool, which integrates with Google Ads. Generates reports for tracking:
key events;
active users;
user interaction with advertising;
the duration of contact of the representatives of the target audience with the announcement.
With the help of Firebase, they predict the likelihood of a user performing targeted actions in the future. The tool is effective in crash analysis, split tests. Increase the efficiency of your business – connect Calltouch call tracking and track call sources. This will help you figure out which advertising strategies, scripts, and keywords work best.
Conclusion. Universal App Campaign is a convenient app promotion service that uses sophisticated intelligent algorithms to interact with users. More than 50% of installations are made by users through advertising on UAC. The system requires a minimum of settings, enough loaded creatives: text, images, videos, banners. UAC independently selects places for impressions: YouTube, search results, Google Play. For the correct operation of the service, follow the recommendations from the developers.