Turnkey utility advertising, in-app case! How did we increase the client's ROI? Geo US, ZA, UZ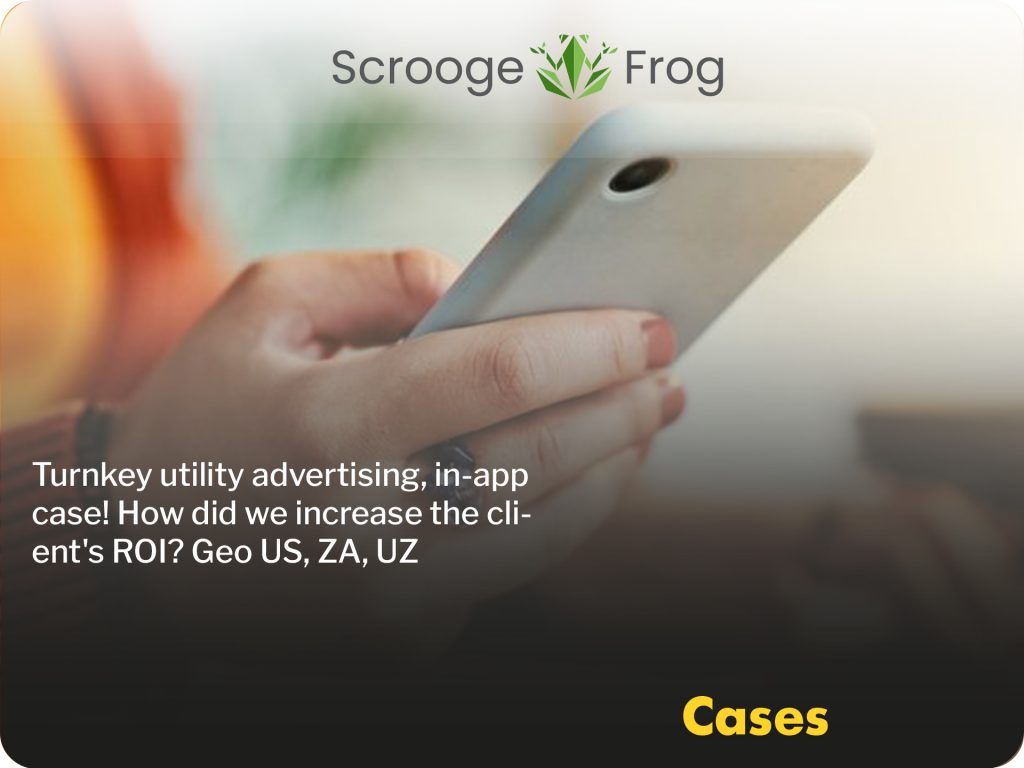 So, you have finally created your mobile app and are ready to present it to the world? Congratulations. But if you don't advertise your app to your target audience, it will get lost in a sea of other apps.
We often hear the phrase 'everyone should mind their own business', because it's true that an app developer should remain a developer and not waste his time on promotion and advertising. For this case, we exist as an agency, and we invite you to read our new article on advertising a turnkey utility and share the impressive results!
First of all, let's start with an introduction and the main KPI from the client. The product is an Android antivirus utility, here are a couple of functions:
Cleaner. It will help you scan and clean files in the storage, such as temporary and residual files of applications, unnecessary cache from social networks and other applications;
Multimedia cleaner. It will help you scan photos and videos on your device and make room for new ones;
Antivirus. Helps you scan installed apps for viruses and malware;
Speed testing. Will help you check the speed of your device compared to other users of this app;
Application lock. Help you block installed apps with a pattern key.
The main KPI or the goal that the client set us is a positive ROI of 30% and brought installs to the client. The client also provided us with a list of GEOs, and there were more than 30 countries. Using the test method and thanks to our knowledge, we quickly figured out which geos would suit the most and what would bring our client profit. In the end, the top 3 geos US, ZA, UZ remained.
Therefore, I would like to divide our case into results and examples of advertising creatives to show how everything works and how important it is to be able to professionally analyze the situation and optimize ads and make ads visually attractive!
We got the following results in 2 months:

As you can see, the KPI from the client was met with an ROI of more than 30%, which we consider a success thanks to our advertising optimization system for your tasks. We have a tracker that optimizes the campaigns for profitability. Our services generate income and success for our clients. But in general, a full-service solution is a complete support from the creation of an effective work plan and we create advertising creatives with a high CR, taking into account edits and wishes from the client and optimization for profitability!
Analyzing these statistics, we see that the ROI is the largest on geo UZ, although everywhere the results were successful and we used a lot of advertising creatives, although the call to action was always one to download the app.
By the way, we advertised this app on the Bigo Ads platform, where we have a personal manager, so advertising creatives are approved much faster than others. Which is a big advantage!
Let's get back to banner ads and here I'll give you a couple of examples:
The main advantages of our optimization inside the ad account:
– we constantly monitor campaigns;
– we try several approaches at once and choose the best one;
– constantly in contact with the representative of the network, to resolve operational issues;
– we work on a basis of summary tables of advertising network expenses and customer's tracker;
– we predict optimal bids based on the entire set of data;
– we have unique experience and knowledge of networking mechanisms that make us competitive.
Conclusion.
We not only fulfill KPI from the client, we also care about profitability, which is what our software, the tracker, helps us with. The tracker optimizes the bid and your advertising budget is under control, where we turn it off and where we need to add it. Moreover, it is also important that we have more than 15 years of experience, so we tested all the GEOs and could find the top 3 GEOs that will bring success out of 30 provided by the client. App advertising is becoming more and more popular due to the huge competition in this market. The developer must think about future clients and how to attract them. The best way is to advertise on different platforms, but there are many nuances so people without experience can lose a lot of money, but it is better to trust an agency that will do everything for you to increase your income. You are developing the app, and we are advertising it!