The main competitor of TikTok, which provides excellent traffic from China and Latin America. Kwai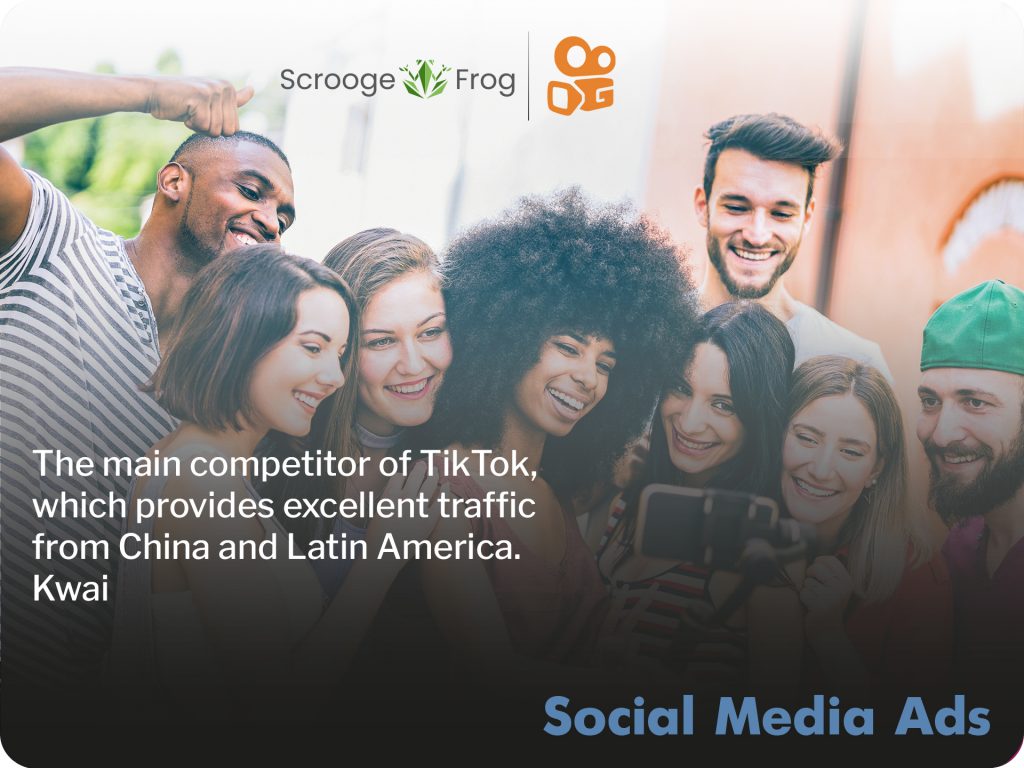 Kwai is China's first short video platform, developed in 2011 by engineers Hua Su and Cheng Yixiao. Prior to co-founding Kwai, Su Hua worked as a software engineer at Google and Baidu. The company's headquarters is located in the Haidian District of Beijing.
As of 2019, it has a worldwide user base of over 200 million and tops "Most Downloaded" lists on Google Play and the Apple App Store in eight countries such as Brazil. In Pakistan and Indonesia this application is known as Snack Video. It is often called "Kwai" in foreign markets, although the original name is Kwai. Its main competitor is Douyin, which is known as TikTok outside of China.
Kwai's overseas team is led by the former CEO of App 99, and employees from Google, Facebook, Netflix and TikTok have been hired to lead the company's international expansion.
The China Internet Investment Fund, a state-owned enterprise controlled by the China Cyberspace Administration, owns a partial stake in Kwai.
Compared to Douyin, Kwai is more popular among older users who live outside Tier1 Chinese cities. Its initial popularity came from videos of Chinese rural life. Kwai also relies more on e-commerce revenue than ad revenue compared to its main competitor. Unlike Douyin, Kwai's algorithm rewards content creators who boast an active user base.
Kwai for Business is an application platform for improving the effectiveness of marketing campaigns in the era of short videos.
The intention, according to Paulo Fernandez, director of monetization for Kwai, is to create new ways to reach digital marketing in the era of short videos. The Chinese platform is right in this sense, since the offer is focused on sharing videos up to 60 seconds long for the user.
On the other hand, there is the "Static Image" format, which, as the name suggests, is a static image that lasts for 3 to 5 seconds to convey accurate information so that the user is not distracted and captures the main element of the image. announcement.
However, one of the biggest Kwai for Business announcements is yet to come!
Kwai for Business advertising platform in Brazil and offers three advertising models:
Brands can embed different types of cards in their videos, allowing you to create call-to-action campaigns for websites, apps, or games, trigger e-commerce product purchases, or even go live. This content will be displayed to users when they view the feed on the platform.
Brands can create immersive full-screen ads that provide users with more dynamic content through conversion campaigns. This type of content will be displayed as soon as users open the app before they start browsing.
Brands can create campaigns with static images or GIFs that provide a call to action for websites, apps, or games. This content type will also be displayed as soon as users open the app.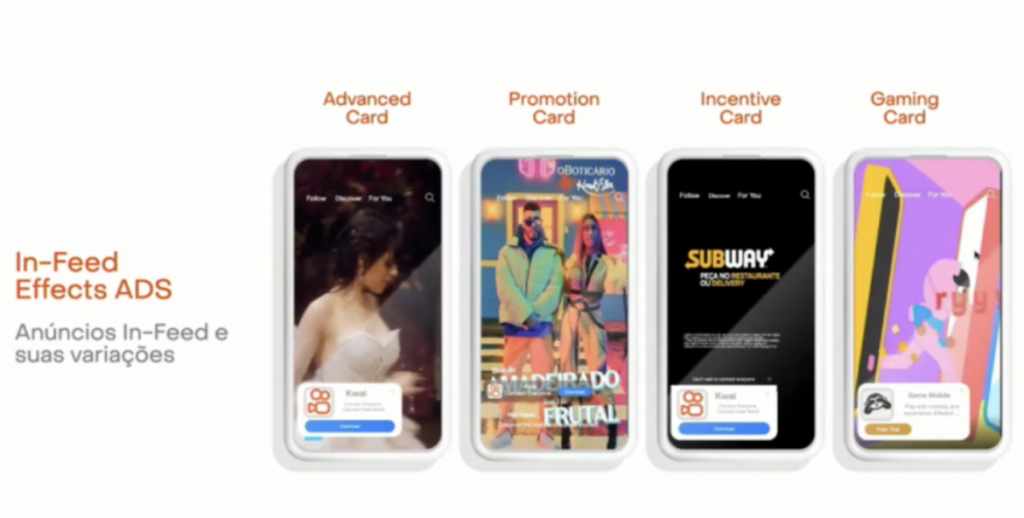 Kwai for Business is still planning to launch new solutions for e-commerce, one of the most important application verticals. In the future, formats will be launched that already make the purchase of products and services available directly in the application, making it easier for the user to interact with this brand.
The team also highlighted the potential for large marketing campaigns using hashtags on the platform. The first major experiment was done in partnership with iFood and generated a total of 200 million views and over 60 posts in 5 days with the #BrasileiroAma hashtag.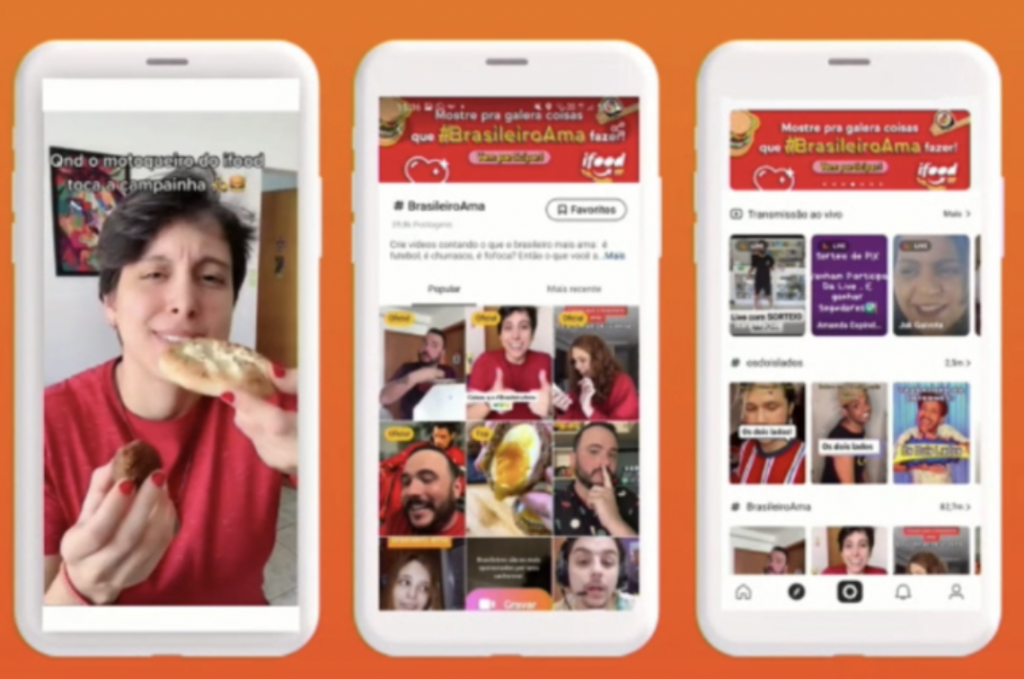 Let's look at one case that seemed interesting to us! HAY x Kwai successfully concluded their first collaboration in open application tasks. As a livestreaming App, Hay focuses on the fun and relaxing social life of the younger generation.
In collaboration with Kwai Creator Marketplace, HAY selected multiple creators from fashion and comedy verticals and announced the brand task. Since the task granted creators enough freedom to create, 2,690 creators actively participated. With the help of the videos contributed, 73 million exposures were achieved within just one week, which went far beyond the brand's expectations.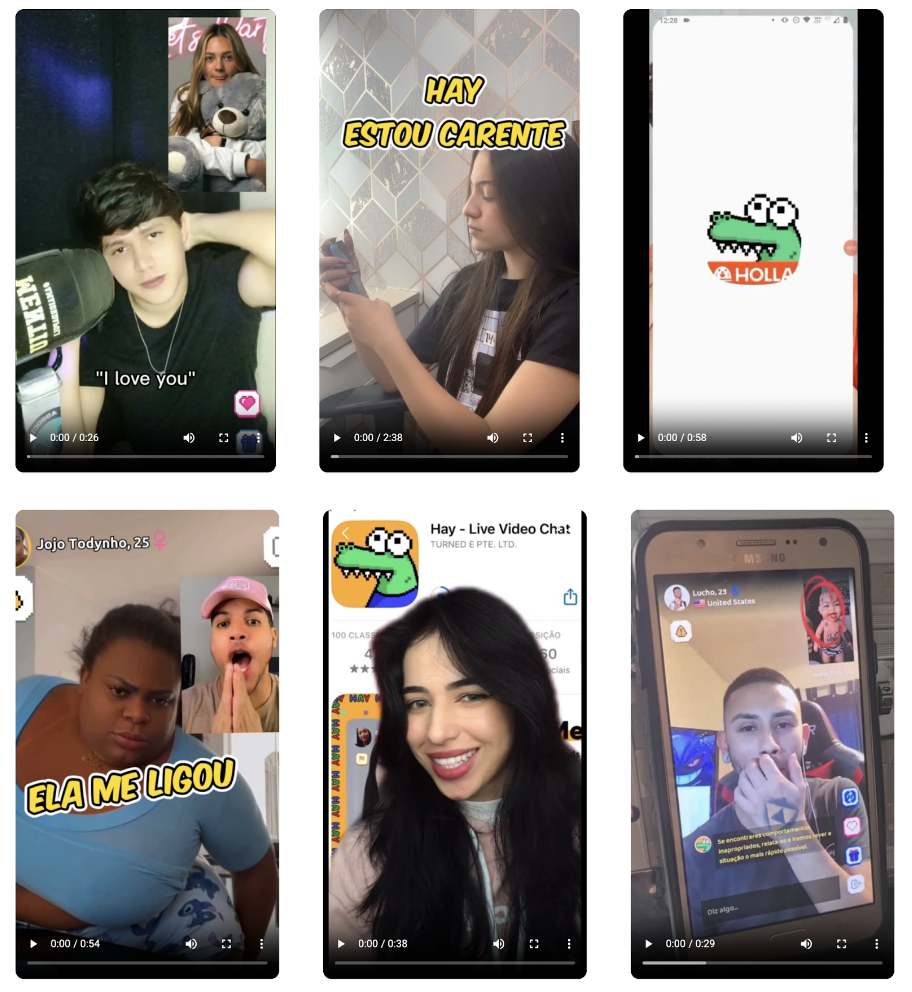 Results – 2690 creators participated, 73M+ exposures 7 days
Conclusion. Looking at the Internet industry, the growth rate of short videos and live broadcasts is still high. Kwai's financial report data for the third quarter of 2022 shows that Kwai's average daily active users exceeded 363 million, up 13.4% from last year, and the number of users hit an all-time high. In 2023, the peak daily active users of Kwai minigames will exceed 10 million, and the completion rate of native Kwai minigames will be more than 2 times faster than the industry average. Also, their development in Brazil and all Latin America is impressive, not to mention that the main geo is China and close countries! That is, if you are looking for buyers in these GEOs, it is important for you to understand advertising from the Kwai platform, as it has a huge impact, you can't even underestimate the audience from 18 to 30 years old, because the new generation buys more online.