Apple Search Ads. The best solution for app promotion?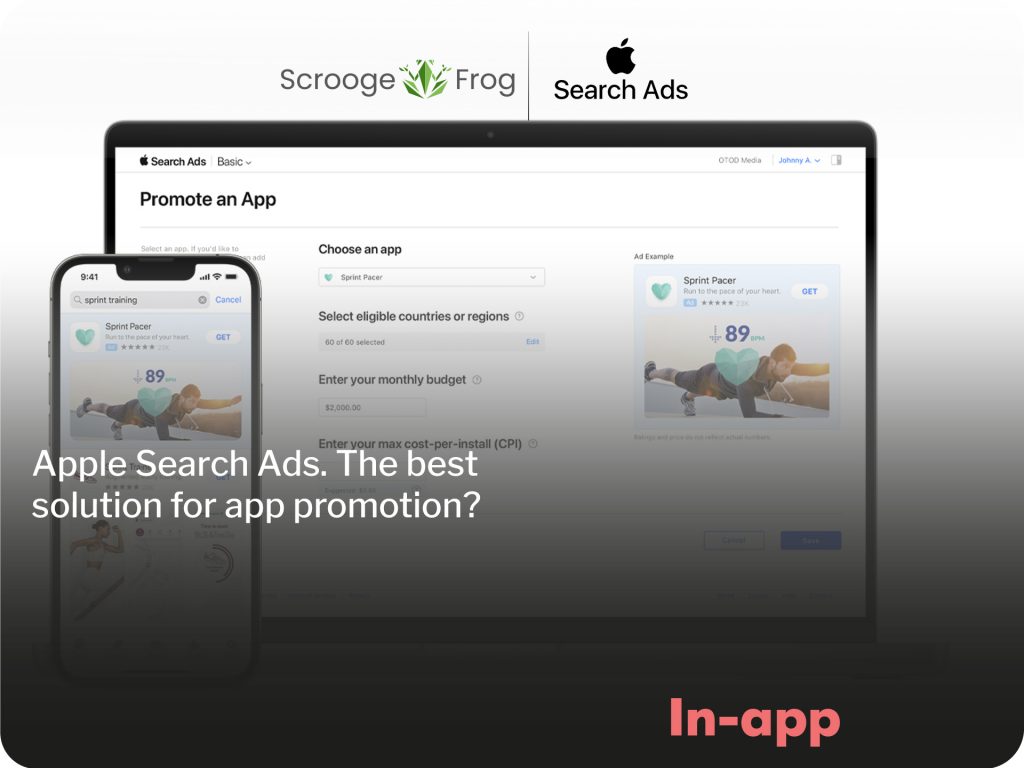 Apple Search Ads helps people discover your app on the App Store, matching customers with your app at the right moments.
Apple Search Ads is an acquisition channel that connects advertisers with relevant target audiences. By staking an impression when a user enters a specific keyword in the App Store, marketers can share their app with users who show interest in certain terms. This is a powerful engagement tool because users are directly exposed to relevant apps when looking for specific features, such as what your app has to offer.
With Apple Search Ads campaigns, marketers can significantly improve their visibility in the App Store. The highest bidder places their ad on the results page for a specific keyword highlighted in blue at the very top of the page. Being first on relevant pages in the App Store is a valuable branding tool that puts your app ahead of your competitors, even if they have strong App Store Optimization (ASO). However, this impact is as powerful as the strategy behind it: The Apple Search Ads still requires marketers to bid on relevant keywords in order for their ads to convert users successfully.
There are two solutions available to marketers: Apple Search Ads Basic and Apple Search Ads Advanced. Which one you choose will determine which tools are available to you, and Apple Search Ads Advanced offers a lot more options to improve your strategy.
How does Apple Search Ads work?
As mentioned, this is a user acquisition channel that connects app marketers with potential users in the App Store. When an App Store search occurs, advertisements for certain apps appear at the top of the search page if they bid on the keyword and win the auction.
You are probably wondering what we mean by auction. When a keyword is searched in the App Store, an auction is held among apps that want their ads to be displayed for that keyword. These apps offer a certain amount in order for their ads to appear, and the winning app's ad is displayed at the top of the search results.
Apple Search Ads Advanced works with pay per click. So app marketers only pay if a user clicks on their ads.
While there is a lot more going on in the background, the core mechanism of Apple Search Ads is described above.
Why is Apple Search Ads so effective?
It's safe to say that Apple Search Ads is much more effective than a lot of channels in many ways.
First, let's add some facts. Apple Search Ads claims that 65% of App Store downloads happen after a search. Today, as of 2021, 70% of Apple Store visitors use the search feature to find an app.
With Apple Search Ads, you reach users exactly when they are looking for an app that might be similar to yours. This is why Apple Search Ads reports a conversion rate of 50%, which is impressive. According to our data, which you can find in the Apple Search Ads Benchmarks report, this number is even higher at around 58%.
Why do you need Apple Search Ads?
If a person is using the search tab, they are probably about to download the app already.
This means they don't need to be incentivized to install the app as they are already looking for it. This factor alone makes Apple Search Ads an extremely effective tool for app marketers.
Another factor is the placement of advertisements. As described above, ads appear at the top of search results. Thus, it will be the first application that users will see.
One of the most common Apple Search Ads tips is that the chances of your ad appearing increase based on how relevant your app is to that keyword. This creates another benefit for user acquisition managers. Consider this example. You need an app to track hours at work. Most likely, you will be looking for something like "hour tracker". If the first thing you see is an ad showing such an app, you are more likely to click and download it.
Apple Search Ads features:
70% of App Store visitors search to find apps;
Reach engaged users at the exact moment they're searching for your app;
Set your own bids and budgets;
View detailed reports of all key metrics;
Pay only for installs at a cost you choose;
Pay only when a user taps on your ad;
Quick-view dashboard tracks ad performance;
Minimal ongoing management needed;
Tailor keywords and audiences for your unique ad.
How much are these ads?
Basic search ads charge per install (CPI). You can set your total monthly budget and determine the CPI for each campaign. Apple quotes based on what it knows about its customers and your app. Advanced search ads are charged per click.
How can a client track their advertising campaigns?
Apple provides a visual console that developers can use to track their ad groups and keywords. You'll be able to analyze granular data such as device, age, gender, or location, as well as cost per click/install, number of installs, and information about downloads and redownloads of your app.
In conclusion, The cost of acquiring users and turning them into loyal customers is still quite low. This means your ROAS will be higher, allowing you to increase your revenue like never before. App Store visitors usually know what they're looking for. With a combination of the right keywords and a solid iOS Search Ads strategy, your app will grab their interest in no time. Be sure to try this product to grow your business and attract new customers!