Is it true that Appnext the best solution for advertising on Android?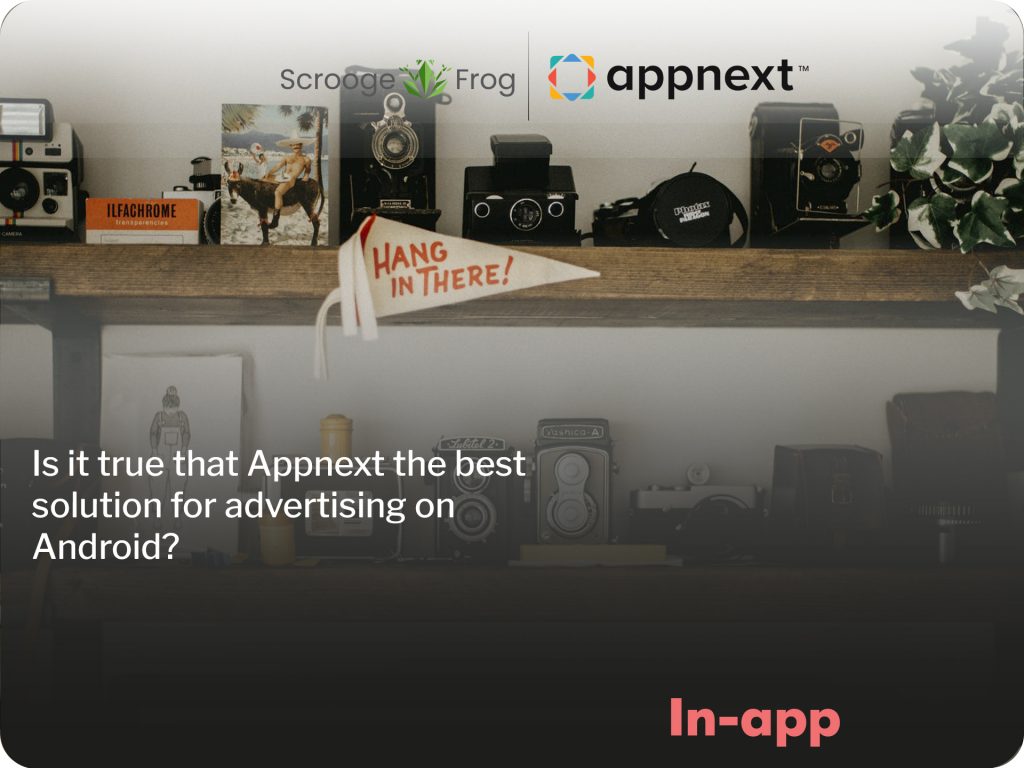 Appnext is the largest discovery platform, offering the only recommendation engine on the market, which encompasses both in-app and on-device discovery. Appnext discovery platform powers 6.5B daily app recommendations via over 20 interactions along users' daily mobile journey.
Appnext's recommendations are helping app marketers reach more engaged users and get their apps discovered, used and re-used!

The platform allows publishers to monetize programs through an API or through SDK integration. Payment is made for installations. Advertisers can take part in the auction (Market), select an application (more than 15,000 publishers) and add it to an advertising campaign to promote their software. It is possible to specify the type of campaign – displaying relevant ads for a specific action (for example, ordering a taxi) or primary/re-attracting users. The targeting settings specify the device (smartphone, tablet), OS version, country and city. Customizable bid options and daily budget limits. The Revenue section provides detailed statistics on revenue, ad placements, and actions.

Main advantages:
Displaying ads at the most appropriate time (predicting the behavior of a specific user);
Self-service platform;
Payment for installs;
Withdraw funds to PayPal or bank transfer;
Coverage – 180 countries, more than 700 million users;
Formats – videos, interstitial ads, native ads.
As for the format of ads, they are of two types: ads when setting up a new device and recommendations when using it.

Advertising on a new device is a banner with recommendations that pops up when you set up your smartphone or desktop preset. Declarations when used are divided into six subtypes.
1) Widget with recommendations. Panel with five icons (five advertised applications). Minimalistic, signed as "Recommended Apps", so it looks like a smartphone recommendation, not an advertisement. It is located next to other widgets, takes up little space – does not interfere and does not irritate.
2) Advertising on the last screen ("minus one screen"). Looks the same as the recommendation widget. But it is not located next to the widgets, but on the far left screen, next to the weather and recently opened applications.
3) Keyboard recommendations. When you enter certain phrases, a panel with four recommendations pops up. For example, if the user writes "purchased by hand", Appnext will show the applications of the classifieds. That is, an accurate selection according to interests is ensured.
4) Folder. A folder with advertised applications appears on the desktop. It also looks native and does not irritate the user: all the recommendations are in one place, and not "scattered" across the screen.
5) Advertising in OEM stores (Samsung Galaxy Store, Huawei App Gallery and others). When the user opens the app store, he is taken to the "Recommendations" tab, where he sees banners and icons of promoted applications.
6) In-app advertising. Recommendations within other applications.
7) Rewarded advertising. Ads in mobile games, for viewing (installation) of which the user receives a reward. Usually this is an in-game currency or extra lives.

Regardless of the type, all ads are targeted by interests. To do this, Appnext algorithms collect anonymized data about users from open sources. Then they analyze the audience and divide it into segments according to preferences (beauty, food, and so on). Each segment is characterized by the degree of interest (weakly expressed, strongly expressed, very strongly expressed).
With this information, the site determines to whom to show ads so that the likelihood of a targeted action grows. In addition to interests, advertising adapts to user behavior. This feature is called Timeline.

The last but not the least, Appnext has a high volume of traffic compared to other OEM sites, as it collects users from different devices. But before launching an advertising campaign, it is important to consider what the target audience uses. Some manufacturers have traffic in the millions of devices, while others have only thousands. When it comes to targeting, almost all of the work is done by algorithms. Including ensure the selection of advertising on the behavior of the Timeline.