Top 5 reasons why you should use Instagram ads?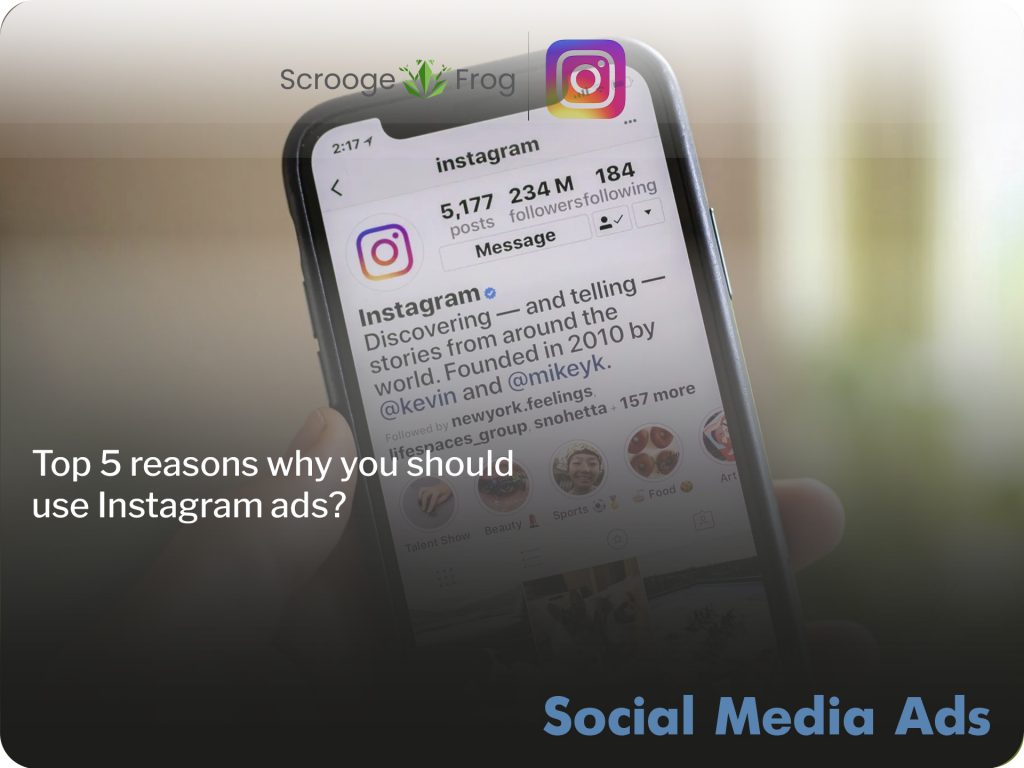 The Instagram audience is growing – and advertisers follow users to this site. In April 2012, Facebook Inc. (now Meta) acquired the service for approximately US$1 billion in cash and stock.

The app allows users to upload media files that can be edited with filters and organized with hashtags and geotagging. Messages can be shared publicly or with pre-approved subscribers. Users can browse other users' content by tags and location, and view trending content. Users can like photos and follow other users to add their content to their personal feed.

In October 2013, Instagram announced that video and image ads would soon appear in users' feeds in the United States, with the first image ad showing on November 1, 2013. A video ad followed almost a year later on October 30, 2014. In June 2014, Instagram announced it would launch ads in the United Kingdom, Canada, and Australia, with ads starting to appear that fall.

In May 2016, Instagram launched new tools for business accounts, including business profiles, analytics, and the ability to promote posts as ads. To access the tools, companies had to link to the appropriate Facebook page. The new analytics page, known as Instagram Insights, allowed business accounts to view top posts, reach, impressions, engagement, and demographics. Insights first launched in the US, Australia, and New Zealand before expanding to the rest of the world in 2016.

In February 2016, Instagram announced that it had 200,000 advertisers on the platform. This number increased to 500,000 in September 2016 and to 1 million in March 2017.

In November 2018, Instagram added the ability for business accounts to add product links directing users to a buy page or save them to a "shopping list". In April 2019, Instagram added a "Checkout on Instagram" option that allows sellers to sell products directly through the Instagram app.

A 2016 Strata survey found that 63% of US advertising professionals plan to use Instagram ads for their clients. This is a huge jump from 34 percent a year earlier (when Instagram ads were not yet available to everyone), making Instagram ads one of the most popular social media ad options.

Now let's move on to the most important question – why should you use Instagram ads to advertise your product or service? The ScroogeFrog team and I have compiled the top 5 reasons based on our experience!
Why are Instagram ads so popular? Here are some reasons:

1. Audience growth. Instagram is one of the fastest growing social networks. TrackMaven studied 26,965 brands across all industries and found that brands experienced 100 percent average subscriber growth from 2015 to 2016.

2. Attention: Users spend an average of 50 minutes per day on Facebook, Instagram and Messenger. In the US, one in five minutes spent on a mobile phone is on Instagram or Facebook.

3. Intention. A study by Instagram found that 60% of Instagram users say they learn about products and services through Instagram, and 75% say they take actions such as visiting sites, searching, or texting a friend after seeing an Instagram post. .

4. Targeting: Instagram ads use the Facebook ad system, which probably has the most powerful targeting capabilities. You can specify your target audience's location, demographics, interests, behaviors, and more. You can even target people who have bought from you or interacted with you and other people like them.

5. Results. According to Instagram, which studied over 400 campaigns worldwide, Instagram ad recall was 2.8 times higher than the Nielsen guidelines for online ads.

Instagram has made it easy to create ads on Instagram. In fact, there are five different ways to create and manage Instagram ads:

In the Instagram app
Facebook Ads Manager
Power Editor
Facebook Marketing API
Instagram partners
How much does it cost to advertise on Instagram?
Instagram ads work on the same system as Facebook ads. The cost depends on several factors, including your budget and whether you choose manual or automatic bidding. However, Instagram ads will never cost you more than you have to spend.

Types of Instagram ads
There are many different types of advertising formats on Instagram, including:
Image ads
Stories ads
Video ads
Carousel ads
Collection ads
Explore ads
IGTV ads
Shopping ads
Reels ads
Get the most out of your Instagram advertising budget with us – ScroogeFrog! Easily create, manage, and optimize all your Instagram ad campaigns in one place. Thanks to our experience, we can help you get quality leads on this platform!