How to sell COD-offers through landing pages in the Middle East and Africa?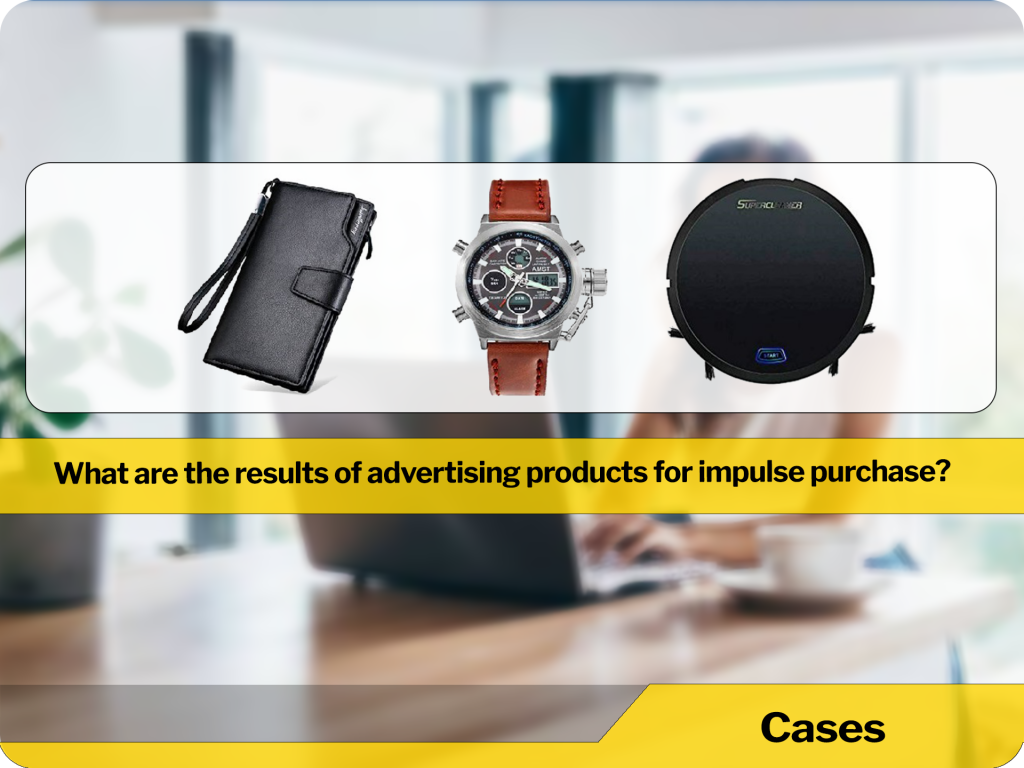 We have been working on the case throughout 2021 and decided to talk about the tasks and results that turned out to be impressive.

But first, let's introduce you to a client. The client sells goods for impulse purchase. The client buys goods in China, delivers to a warehouse in each country and sells through local courier delivery services. Examples are robot vacuum cleaners, massagers, a set of tools for self-repair, mobile air conditioners, and refrigerators. Based on our experience, we understood the customer profile for each product is different. Just like it's an impulse purchase.

For a deeper analysis of the case, we chose photos of goods that were sold in a circulation of 1000 pieces. Here is some of them: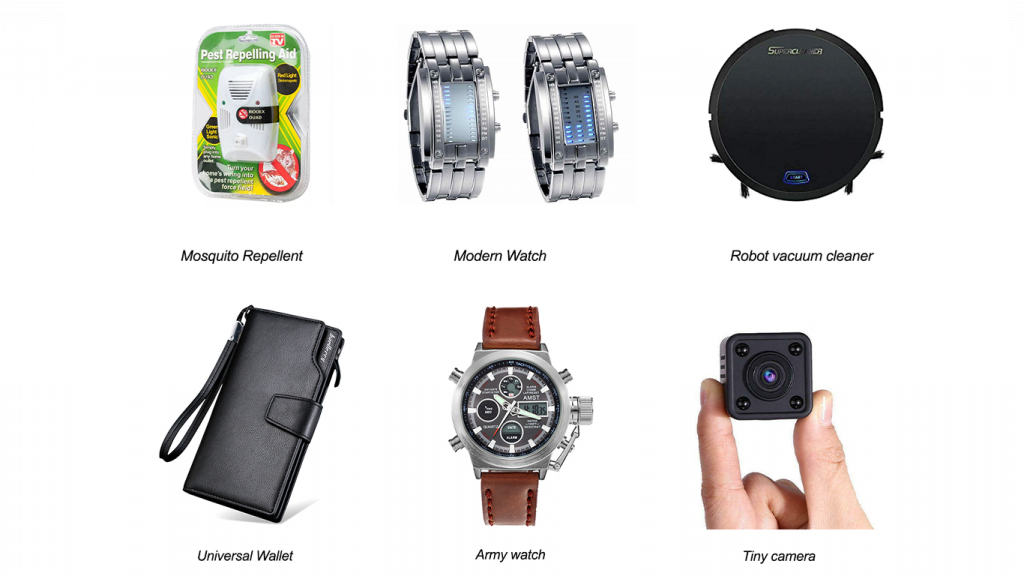 Therefore, there were a lot of goods, there were a lot of geos, and there were a lot of advertising networks. We cannot include everything in one article, so we will present you in the context of geo and ad networks. Chart data for the whole 2021.

The main KPI from the client is the maximum number of sales of each product within the required price for approval (considering that the price for approval is different in each country and for each products)

Tested ads for these products in Arab and African countries with English and Arabic-speaking populations in the countries of MENA + Africa

Based on the client's request, we compiled a list of countries where we sent traffic and tested it:
GCC countries
Sub-Saharan Africa
Near East
Saudi Arabia
Tanzania
Egypt
Qatar
Kenya
Jordan
Kuwait
Nigeria
Oman
UAE
Bahrain
Let's start our analysis by countries, namely their specifics of purchases on various platforms.

GCC countries:

UAE has good purchasing power, as it is rich, but due to high competition, the client could not earn money due to margin reduction;
Saudi Arabia is the largest country in the Persian Gulf with about 40 million inhabitants, so there is a lot of traffic from there. And the number of approvals was also high. But Qatar 2.8 million and Bahrain 1.7 million e-commerce is poorly developed, so they bought poorly.
Also Kuwait 4.2 million and Oman 5.1 million, at the same level of solvency and we received almost the same number of approvals from these countries.

Near East:

The population of Egypt is about 100 million people, but the country is quite poor and there is also a huge competition with a site like OLX, as entrepreneurs there are very depinging. Therefore, it was difficult to choose for this country a product that was not on their market and on which one could make good money. But there were orders and we chose the right products for this particular country.
On the other hand, Jordan is richer than Egypt and there is no such competition, which allows it to maintain a normal margin on a larger range of goods, but its purchasing power is much inferior to the countries of the Persian Gulf.

Sub-Saharan Africa:

Nigeria has shown itself to be corrupt with a high level of fraud. Many sites cheat clients to make an attractive price for the client, and the clients turn out to be fake. It is also essential to know that the order is paid in dollars, and the site is converted into a currency at the rate of the site, which does not correspond to reality, so this is another fraud scheme. money is thrown into dollars is converted into their currency and converted at their rate withdraws additional money.Therefore, we have seen that in Nigeria the level of fraud at all stages, such as purchase, delivery of goods, courier services and buyers, is very high. It is also important to understand that due to fraud, we cannot qualitatively estimate the number of orders.
The peoples of East Africa are much more decent than Nigerians. Tanzania is an emerging country with low demand for these goods. Also in this country the sphere of sale through the Internet is poorly developed.
Kenya's population is educated and solvent. Therefore, of all the countries of Sub-Saharan Africa, the Kenyan market has shown itself to be developed and solvent.

Let's move on to the analysis of the advertising platforms we used for this case!

In the process of work, we have chosen many platforms, there are 15 of them:

Taboola
Twitter
Yahoo
Snapchat
Outbrain
Opera
Ngadverts
Mgid
Jubna
Engageya
Dochase
Cybertronads
Adskeeper
Speakol
Huawei
Recently, the results of advertising campaigns on the Taboola platform have surprised us. In this case, Taboola performed the best and brought in many buyers from Sub-Saharan Africa. As the diagram shows, this region received a lot of orders from Twitter.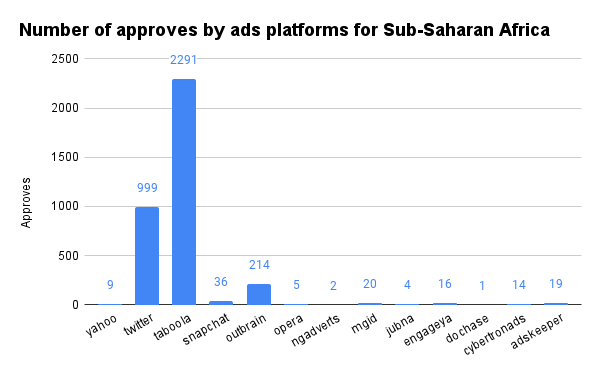 We analyzed the number of orders in GCC countries and we can clearly conclude that Twitter, Taboola, Yahoo, Speakol and Jubna picked the right audience where people from these countries ordered the offered goods. It can be assumed that the coverage on these platforms is good in GCC countries where the size, format and quality of the ad is probably better than on other platforms for the same GEO.
In countries from the Middle East, based on the diagram, we can conclude that Engageya showed the best results. According to our advertising experience, Engageya works on GEOs like Egypt, Saudi Arabia, Jordan, United Arab Emirates, Portugal, Turkey, Greece, Tunisia, Oman. That is why we assumed that in this region it would be the leader.
All other advertising platforms didn't show the expected results for some reason, we assume it's because of:
Poor targeting tools
Poor coverage in these regions
Topic e-commerce don't always fit on some platforms
The age category of the audience that uses this or that platform should match the portrait of the client
In African networks, a high percentage of traffic cheating and deception at the exchange rate – a lot of frauds
We are satisfied with the results of our work, as well as the client. If you want the same results, we will help you rationally cope with all advertising and traffic tasks.