What are the results of MMORPG ads in 3 different languages on different platforms? Gaming vertical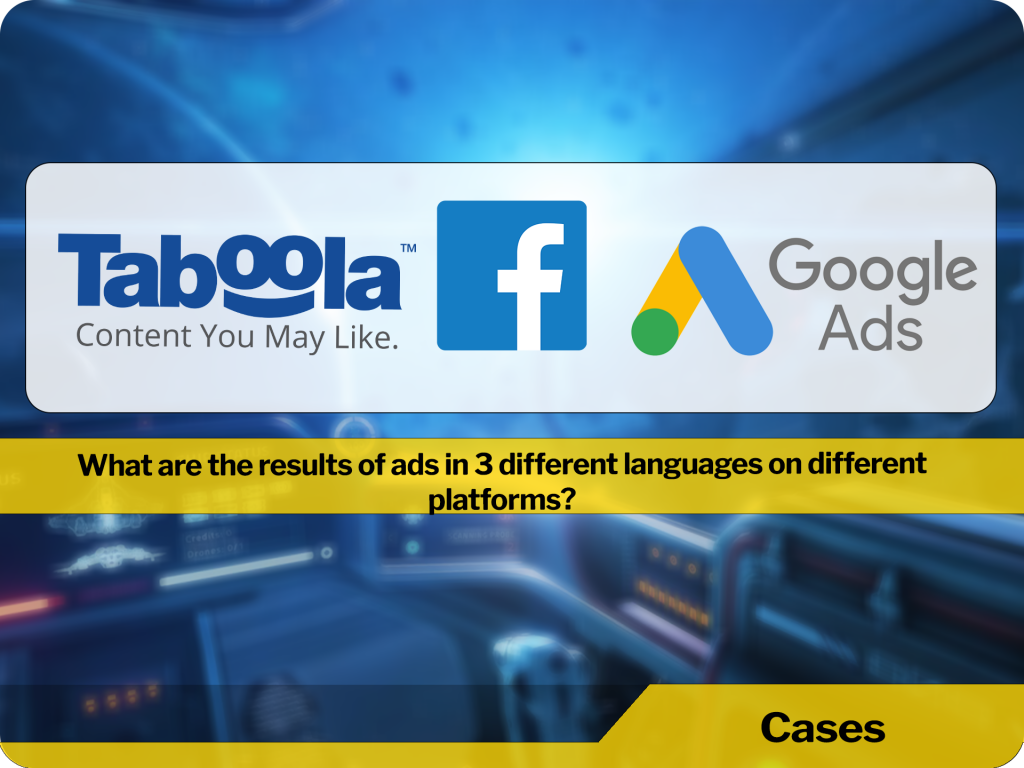 First of all, we want to introduce our client and some introductory information. The multiplayer online game is based on the game currency, where a user buys crystals and makes customization. For our client, people from Tier1 countries, where the GDP per capita is over $40,000, are important – as they play more and donate more. From the input data, we have tasks.

Tasks set by the client:
1. Increase the number of deposits;
2. Optimization for complex registration;
3. Keep conversions at 1000 conversions per day;
3. Maximum coverage of all advertising;
4. Search for sources that bring stable results for the client.

Tier1 countries and regions, where the GDP per capita is over $40,000:
English language – Australia, Aland Islands, Canada, Cyprus, Denmark, Finland, Faroe islands, Great Britain, Guernsey, Gibraltar, Greenland, Hong Kong, Ireland, Israel, Isle Of Man, Iceland, Jersey, Kuwait, Malta, Netherlands, Norway, New Zealand, Qatar, Sweden, Singapore, Svalbard and Jan Mayen, USA
German language – Austria, Switzerland, Germany, Liechtenstein, Luxembourg
French language – Belgium, Canada Quebec, France, Luxembourg, Monaco
Since the game is only a desktop game, we were counting on certain traffic platforms in advance. Also taking into account the client's request and data about their user portrait with high donations.
What have we done?
Created a list of countries by donations based on the results of organic traffic
Sampled and sampled the richest countries (and even regions)
Developed a set of creatives for each platform
Optimized advertising by pixel
According to the analytics, we created a portrait of the client
Marked traffic, set up its tracking, installed pixels on platforms where possible
The client developed a special page for each language, where the player was attached to a mentor (like a sales manager)
What channels did we use?
Taboola
Google Ads
Facebook Ads
Outbrain
MGid
Quora
Twitter
Microsoft
Reddit
The task set before our specialists isn't easy, but thanks to our experience, we will be able to predict how advertising will work, but the result surprised us ourselves, and we want to acquaint you with it, namely a review by channels.
In the first place, the Taboola platform showed the best results, there are reasons for this, which are not difficult to predict. Taboola's largest network, large portals, specialized resources for gamers, and automatic targeting all paid off. It is important to know that we have set a pixel for optimization. Based on it, those who made the conversion were no longer shown ads. We tested different types of bid strategies (Smart Bid/Fixed Bid) and optimization for СPС. An interesting decision was the division not only by language but also by geo, for example, geo Germany had the most traffic and the best donation, we put it in a separate advertising campaign.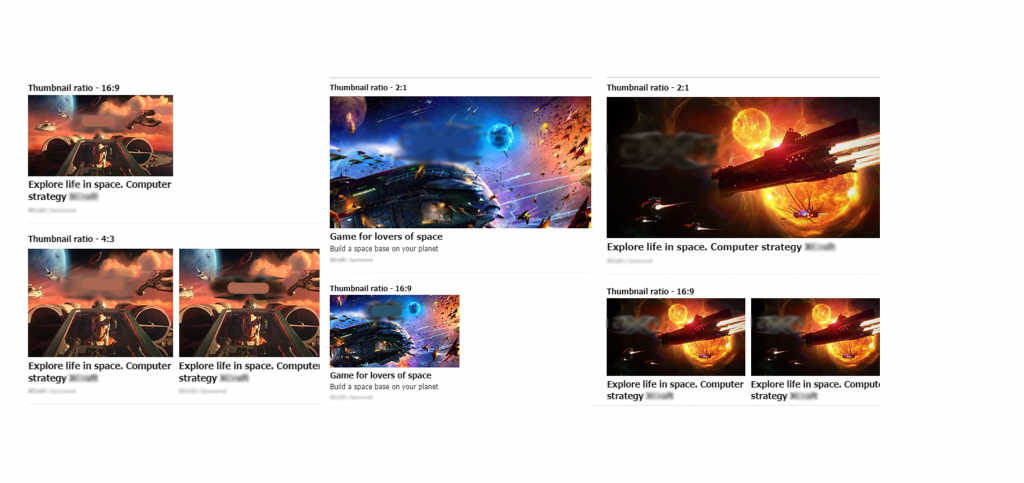 In the second place, Google Ads – this is a very large audience, especially for these languages that were supplied by the client, the price of the client is low, good donations. In working with Google Ads, we used all possible types of display campaigns, search, with different bid strategies (for conversion and for impressions), look-a-like audience impressions. But there is also a minus – a large data stream of a pixel is not correctly considered a conversion, the average user portrait is calculated.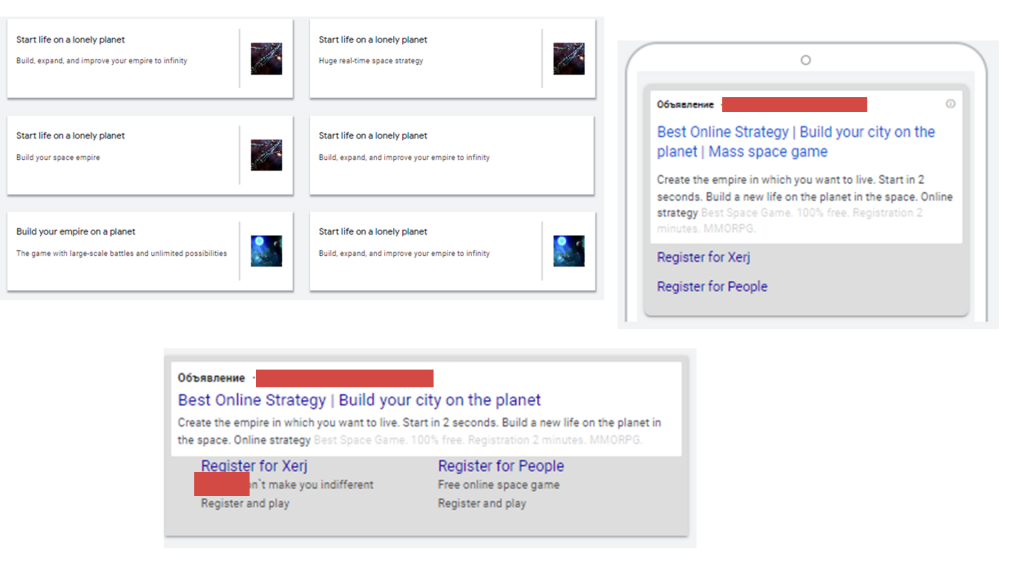 In third place, Facebook Ads. The deposit is less, but the number of registrations fulfill the given norm. We reduced the cost of conversions by 2 times, so we are fulfilling the sales plan.
The ratio of conversions and conversion cost can be seen in the diagram.Но As we indicated above, there are more registrations on Facebook, but they donate less, and vice versa in the Taboola. Therefore, a low cost per click and a large number of conversions are not always a good result.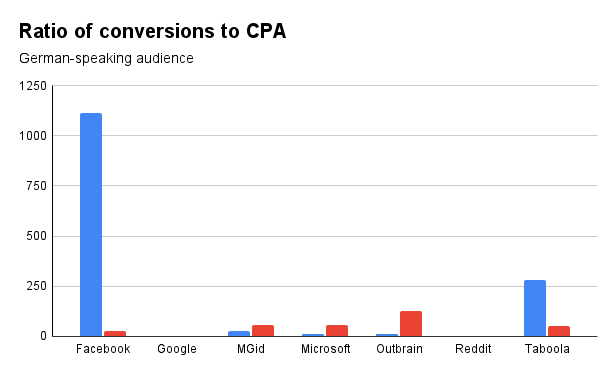 Outbrain – due to the fact that this site has poor interest targeting, we could not find an audience of gamers. In addition, this is a news resource, which is not suitable for entertainment areas.
MGid – on this platform, there are more entertainment sites, and not for online games. Compared to 2015-2016, conversions from this site have dropped significantly. There is no French-speaking traffic, which was important for the client.
Quora is an analogue of reddit only in English advertising, and there are no French and German ones.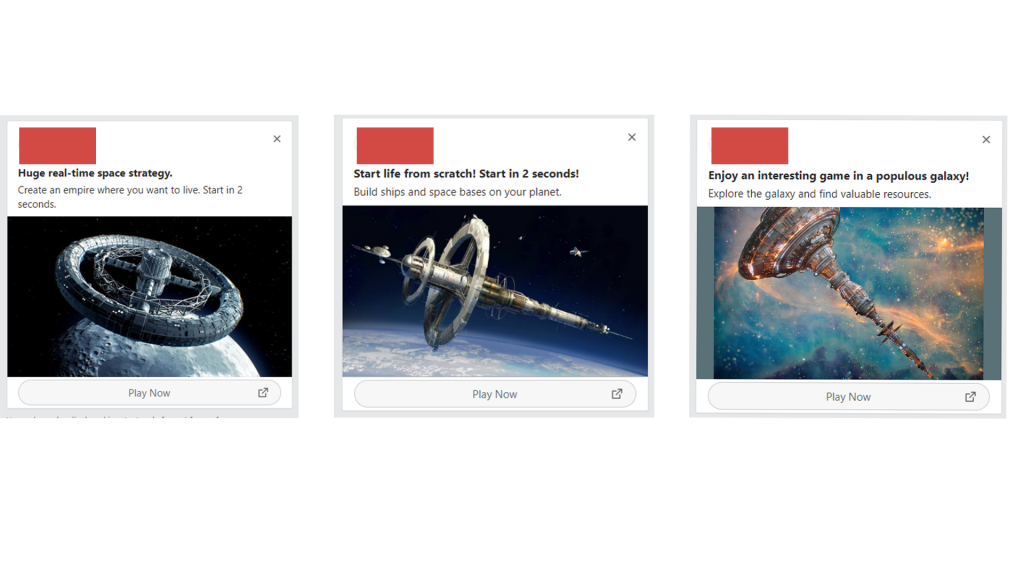 Twitter is a social network that is used more often on mobile devices, so it did not work for this game.
Microsoft – There was a lot of expectation for this ad network as the operating system covers 2/3 of all computers in the world. We tried the format of native advertising and search. We used pixel, audience, age, languages, geo, keywords for targeting. Also, different strategies for optimizing the advertising campaign (manual, CPA), but there were not so many in the volume of all traffic and the number of conversions. According to the German-speaking and French-speaking audience, there were the best options. We assume that their search engine is the strongest, we will continue to try to optimize ads on this advertising.

Reddit – is a very popular English-language social network, but the advertising was too bad. This platform is difficult to work with, due to limited set of tools for optimization. The pixel in this case does not work well. Gaming interests are bad and incorrectly assigned to each user. Unfortunately, this did not produce any results.
As a result, Tabola automation showed the highest efficiency and the most paying customers, and the retention time in the game increased. In the course of working on this case, we selected a portrait of a client in each network described above. This included – age, gender, geolocation, audience.
To show the scope of the breakdown, here is an example of Microsoft statistics for French-speaking audience
CPC, CPA – optimization models
casual_games, free_to_play_games – different interests by ready-made audiences
mmorpg, space_strategy, browser_game – different sets of keywords
all possible cross parameters
As a result, we left the 3 most successful advertising companies to work.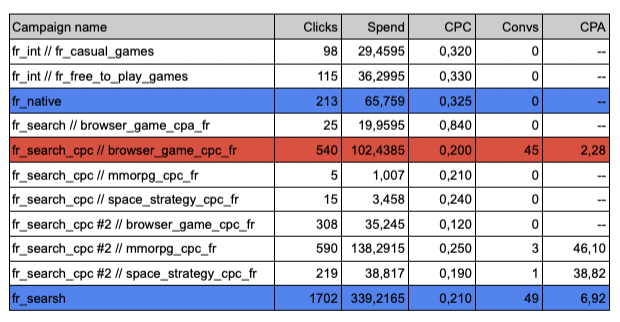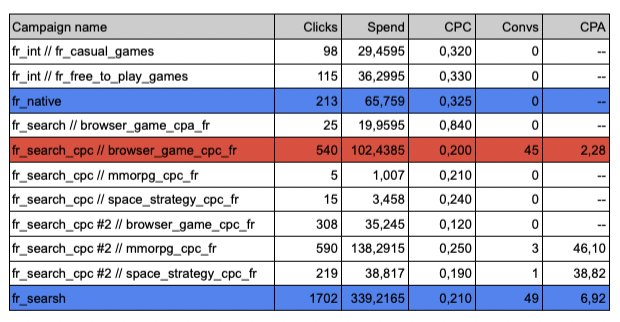 We also corrected the effectiveness of bids for sites, placements, cost per click and cost per conversion. An important fact is that converting gamers in different countries were of different ages. Also,within the same geolocation and language, different networks bring registrations that convert differently.
We are satisfied with the results of our work, as well as the client. If you want the same results, we will help you rationally cope with all advertising and traffic tasks.

Here, you can look at statistics and see the results of what ads were more effective.